The 5 pilot projects that are to take fruition along the lines of Norway's Green Coastal Shipping Programme were presented by DNV GL along with 25 partners from Norway's maritime industry and the Norwegian authorities. The programme itself will focus on encouraging the research and subsequent integration of eco-friendly technology in the shipping sector of the country.
The projects feature a number of different vessel types and infrastructure with a special focus on alternative fuel.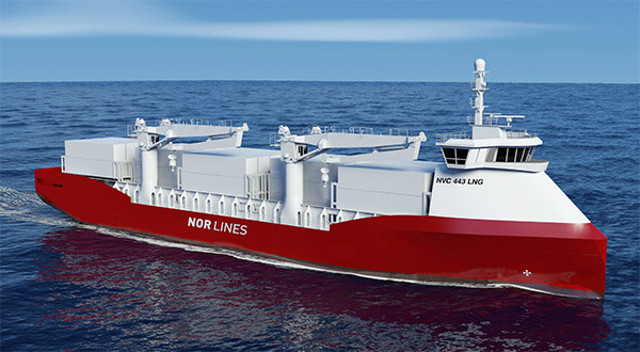 Image: Nor Lines
CargoFerry plug-in hybrid
The CargoFerry Plug-in Hybrid is the first pilot project and it strives for developing a cost-efficient and profit-productive short-sea container carrier powered via the use of a plug-in hybrid LNG/battery propulsion system. It is a zero-emission project that will be led by Nor Lines.
Next-generation green shuttle tanker
The 2nd pilot project is going to be led by Teekay Tankers. It will focus on technical solution for the utilization of batteries and VOC (Volatile Organic Compounds) in a shuttle tanker. This vessel type has never been equipped with battery technology before.
Employing the liquid VOC for the purposes of onboard power generation may lead to a reduction in the vessel's total fuel consumption levels and eco impact. VOC is produced during offshore loading procedures.
Hybrid ocean farming vessel
The 3rd pilot project is going to emphasize on an optimized hybrid propulsion system for achieving a great energy efficiency level and redundancy during operations. ABB and the Cargo Freighters' Association will serve as the owners of the project.
Cargo carrier converted into battery-hybrid LNG carrier
The project is going to focus on developing a cost-efficient LNG distribution concept featuring a hybrid LNG/battery propulsion system and is to strive for achieving zero-emission levels during operation. Small LNG carriers may benefit from the conversion of an existing ship as it will be a cost-effective solution. Øytank Bunkerservice and the Norwegian Gas Association will serve as owners of the project.
Pioneering green port project
The fifth project will emphasize on the development of a port with low levels of energy consumption and a minimal amount of carbon impact. Cranes and heavy-duty vehicles are to be employed for achieving this. The port will also feature smart gates, charging stations for plug-in hybrid vessels and provide cold ironing services.
Risavika Harbour in Stavanger is going to be responsible for the development of the project.