The naming and handover ceremony of three cutting-edge, ice-class OSVs has been carried out by Keppel Singmarine. The three vessels are to serve the purposes of the Malaysian Bumi Armada offshore services provider.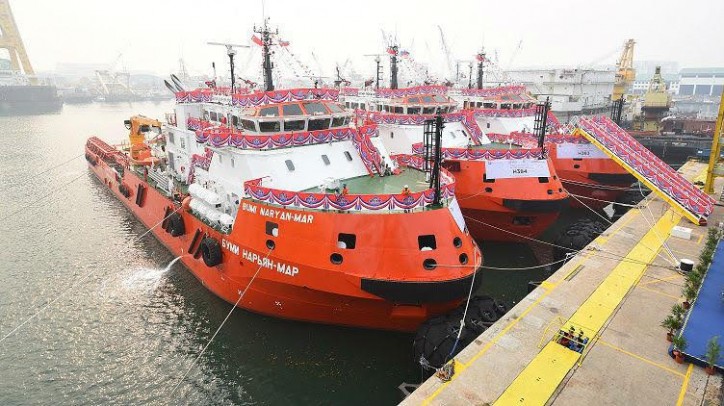 Image: Keppel Singmarine
The offshore supply vessels are to carry out operations in the Caspian. There they are to be initially appointed to oil major Lukoil's Yury Korchagin and V. Filanovsky oil-and-gas condensate fields.
The Bumi Pokachi and Bumi Uray were constructed at China's Keppel Nantong Shipyard and were designed for maintaining offshore oil and facilities' safety.
Their equipment features DP2 systems along with oil spill response (OSR) technology, fire extinguishing systems and a RS class notation Arc4.
The 3rd vessel, which is the Bumi Naryan-Mar, comes as a more complex rescue vessel – it has an Arc5 Arctic class notation meaning that it can efficiently carry out operations in winter conditions as well as in the summer.
All of the three vessels come along with Transas T-bridge integrated Bridge Systems, which includes external and internal communication systems, full navigation systems and CCTV.