CMA CGM Bougainville is billed as the first containership in the world to be equipped with TRAXENS technology, which transforms containers into smart, connected objects.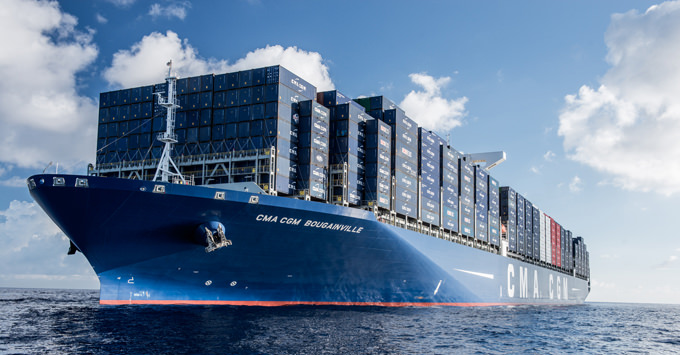 Image: CMA CGM

Newly built CMA CGM Bougainville, the 18,000 teu flagship of French container shipping company the CMA CGM Group, has become the first ship in the world using TRAXENS technology, which essentially transforms standard containers into smart, connected objects.
Introducing the multimodal transportation system into the Big Data era, the TRAXENS equipped smart containers aboard the CMA CGM Bougainville will be able to communicate among themselves and to the ship's communication infrastructure by using built-in relay antennas that collects and sends data to CMA CGM headquarters in Marseille via TRAXENS' data centers.
Throughout the container's transport, whether on land or at sea, the TRAXENS system collects real-time data, including location, temperature, humidity level, vibrations, impacts, attempted burglary, customs clearance status and more.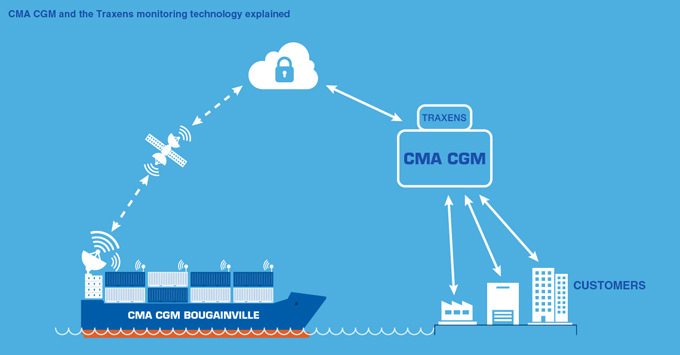 Image: CMA CGM

This adds considerable value to the shipping line and to its customers, insurers and customs, according to CMA CGM, who said the devices provide even greater added value in the refrigerated transport of perishable goods as temperatures of the refrigerated containers can be controlled remotely.

Upon the launch of CMA CGM Bougainville next Tuesday by François Hollande, President of the French Republic, CMA CGM will be able to provide clients with new solutions for monitoring and collecting continuer information in real time, anywhere in the world – a technology which CMA CGM and TRAXENS aim to promote as an international standard in the shipping world.

In February 2015, CMA CGM Group strengthened its investment in the Marseille based startup TRAXENS, and with this partnership has positioned itself as a transport forerunner in the field of Big Data.
Source: cma-cgm.com