At approximately 7:30 a.m local time on October 1, Coast Guard Atlantic Area command center in Portsmouth, Virginia, received an Inmarsat satellite notification stating the EL FARO was caught in Hurricane Joaquin.
The ship's crew reported that the vessel had lost propulsion and had a 15-degree list.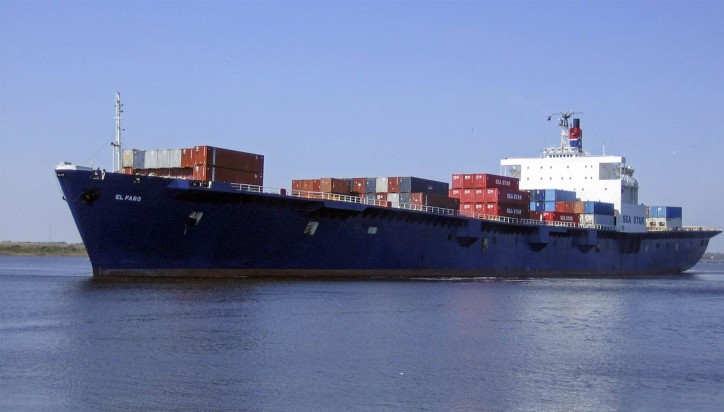 Image: Tote Maritime in Jacksonville, Florida
The American flagged Ro-Ro cargo ship was near Crooked Island, Bahamas, en route to San Juan, Puerto Rico, from Jacksonville, Florida.
The crew reported the ship had previously taken on water, but that all flooding had been contained. Since then, communications were lost. A full-scale SAR is under way, engaging planes, helicopters, USCG cutter and all ships in the area. The crew consists of 28 U.S. citizens and five Polish nationals.
In a statement, the ship's managing company TOTE Maritime, Puerto Rico, said:
"As of 7:20am EST on Thursday October 1, TOTE Maritime Puerto Rico lost all communication with the EL FARO. TOTE Maritime Puerto Rico is working closely with the U.S. Coast Guard and all available resources to establish communication by whatever means possible."
On Sunday evening (Oct 4), the US Coast Guard reported that it had discovered a 225-square-mile debris field in the Caribbean Sea during its search for the missing El Faro.
Sunday's discovery of the debris field, which consisted of Styrofoam, wood, cargo and other items, according the Coast Guard, came only hours after the agency said searchers had found "multiple items," including an oil sheen, life jackets and containers in the same search area.
In the statement released by TOTE Maritime Puerto Rico, was said that a recovered container "appears to be from the El Faro," but according to the Coast Guard, there is no confirmation at this point that it or any of the missing objects belong to the missing vessel.
"We located the objects via aircraft," explained Lt. Cmdr. Gabe Somma, who also said that Coast Guard cutters were still fighting the weather trying to get to the vicinity of the ship's last known position, about 35 nautical miles northeast of the Bahamas.
Source: nbcnews.com / Contributor: Klaus Reinstein