The first merchant vessel to be registered under the South African flag since 1985, arrived in Saldanha Bay (South Africa) last week to transport a cargo of iron ore from Anglo American's Kumba iron ore business to Asian markets.

Images: southafrica.angloamerican.com
The Cape Orchid, a 300 metre long, Japanese-built bulk carrier is owned by South African operator Vuka Marine, a joint venture between Via Maritime Holdings of South Africa and K-Line of Japan, and registered in Port Elizabeth, South Africa.
Vuka Marine currently has two South African flagged, cape-size vessels – the Cape Orchid and the Cape Enterprise.
Atsuo Asano, Managing Executive Officer of K-Line, said:
"We are pleased that Vuka Marine has been launched successfully and look forward to working with our South African partners to grow the business."
While in Saldanha Bay the Cape Orchid will take on a number of South African cadets, who will sail with the ship for around six months as part of their officer training programme.
Commander Tsietsi Mokhele, CEO of the South African Maritime Safety Authority (SAMSA), congratulated Vuka Marine for being the first South African company to register ships in South Africa in recent times. He added that South Africa's status as a maritime nation had been undermined by its lack of a merchant fleet.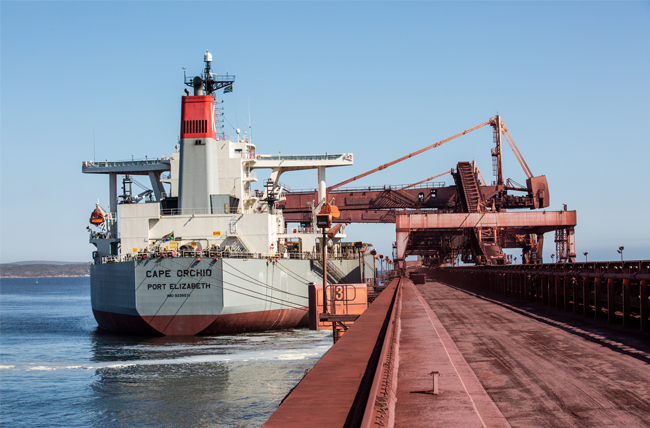 Mokhele noted that about 95% of South Africa's international trade moves through the country's ports. He continued that buying in this service exclusively from foreign shipowners and seafarers, where this could be done competitively by local operators, was creating an economic cost in South Africa.
Norman Mbazima, Chief Executive Officer of Kumba Iron Ore and Deputy Chairman of Anglo American South Africa, said:
"We are proud to be witnessing this historic moment for South Africa, and for Anglo American and Kumba Iron Ore to be the Cape Orchid's first customer, dispatching a cargo of 170,000 tonnes of iron ore to China. Vuka Marine has achieved a key milestone for this country and we look forward to a strong partnership as it is through partnerships of this nature that we are able to support job creation and the growth of South Africa's economy."
South Africa has experienced a decline in its merchant fleet since the mid-1990s. SAMSA has prioritised a programme of action to reverse this trend, through initiatives such as Government's Operation Phakisa which has prioritised the attraction of ships onto the national register as a key aspect of achieving job growth and economic development in South Africa's Ocean Economy.
The ability of South African shipping companies, using South African ships, to offer globally competitive pricing and services is key to further unlocking the value in South Africa's mining industry.
Source: southafrica.angloamerican.com