On Saturday, October 10, the 4,000 ton food-processing barge Atlantis ran aground in Sinclair Inlet near Navy Yard City, Washington.
The Atlantis had been moored to a buoy when a windstorm cause the chain to break.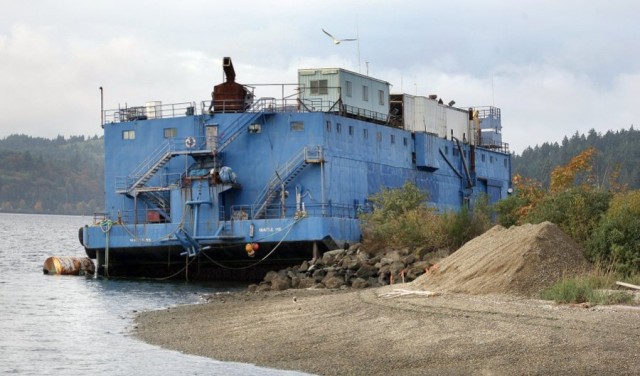 Image: Larry Steagall
The barge was blown ashore on a nearby beach. No reports of injuries.
On Monday (Oct 12) the vessel remained tied up along the shipyard parking lot, near the retired aircraft carrier Independence.
The seafood processor Atlantis is nearly 200 feet long, 60 feet wide and several stories high. It can accommodate up to 110 seafood workers. The barge is owned by Astoria Seafoods, of Bellevue.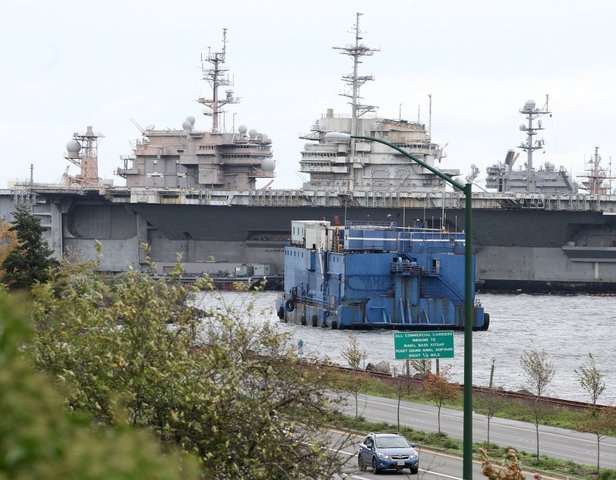 Image: Meegan M. Reid
Representative of the ship-owning company said that there were no hazardous materials aboard because it hadn't operated for six years.
The vessel will leave next month for a Seattle dry dock to be refurbished. It has operated as a salmon processor in southeastern Alaska.
Source: kitsapsun.com