A vessel carrying rum ran aground in the South Shore Canal of the St. Lawrence Seaway near Montreal, Quebec, Canada.
The chemical tanker Jo Spirit has been blocking the canal since early Monday morning (Oct 19).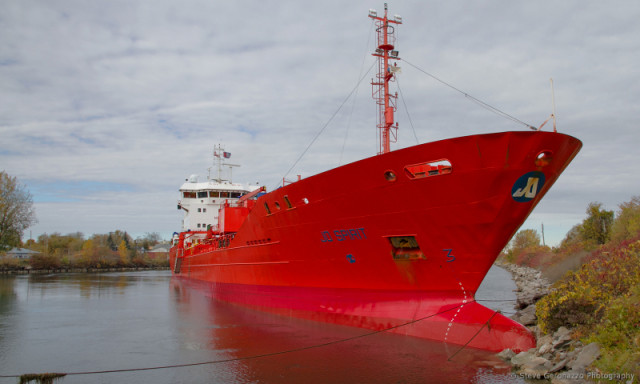 Image: Steve Geronazzo
Andrew Bogora, a spokesperson for the The St.Lawrence Seaway Management Corporation, says at around 3:30 a.m. it went off course and hit the wall of the canal. Inspectors are on the scene and the ship appears to be intact.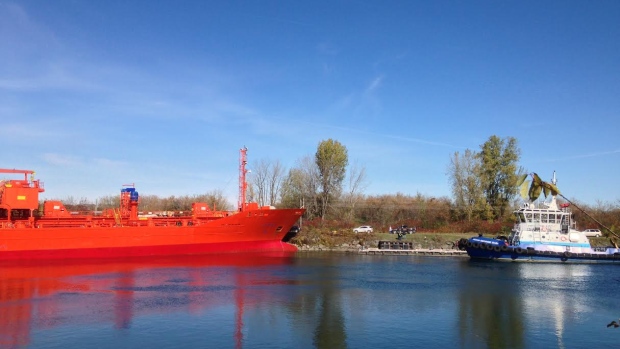 Image: Elias Abboud/ CBC
"From what I have been told there is no pollution, no evidence of any type of oil coming from the vessel," said Bogora.
Andrew Hills, a senior manager of the ship-owner, Jo Tankers, said for a local news media that the ship has experienced a failure in the main engine.
"The vessel's engineers have already rectified the engine problem but the vessel needs some assistance off the bank. There has been no injuries to anybody, and no pollution," said Hills.
Two tug boats arrived early Monday afternoon to free the Jo Spirit. It could take hours for the vessel to be freed. The ship was en route to Cuxhaven from Hamilton.
About three ships are currently waiting for the canal to be cleared before they can continue to their destination. The federal Transportation Safety Board will investigate why the vessel went off course, and file a report.
Source: cbc.ca