On October 17, General Dynamics NASSCO hosted a christening ceremony for the first ECO tanker for American Petroleum Tankers (APT) under construction at the company's shipyard in San Diego. San Diego Mayor Kevin Faulconer spoke at the ceremony, and the ship's sponsor, Mrs. Helen Downs, christened the ship with the traditional break of a champagne bottle alongside the ship.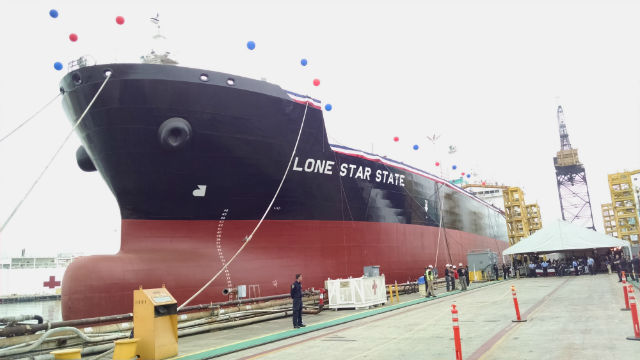 Image: Chris Jennewein
The ECO tanker, the Lone Star State, is the first of a five-tanker contract between NASSCO and APT, which calls for the design and construction of five 50,000 deadweight ton, LNG-conversion-ready product carriers with a 330,000 barrel cargo capacity. The 610-foot-long tankers are a new "ECO" design, offering improved fuel efficiency and the latest environmental protection features including a Ballast Water Treatment System.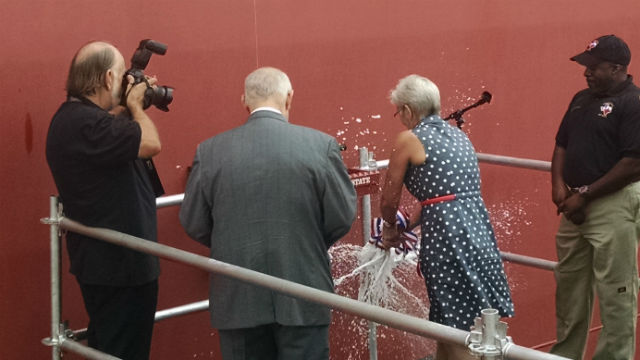 The ships were designed by DSEC, a subsidiary of Daewoo Shipbuilding & Marine Engineering (DSME) of Busan, South Korea. The design incorporates improved fuel efficiency concepts through several features, including a G-series MAN ME slow-speed main engine and an optimized hull form.
The tankers will also have dual-fuel-capable auxiliary engines and the ability to accommodate future installation of an LNG fuel-gas system.
A day earlier, on Friday, October 16, NASSCO shipbuilders began construction on a fifth tanker for APT.
The construction and operation of the new tankers are aligned with the Jones Act, which requires that ships carrying cargo between U.S. ports be built in U.S. shipyards.
Source: nassco.com