The two new giant compressors that started up on the Troll A platform this month will help increase gas recovery by 83 billion cubic metres. The occasion attracted a platform visit from EEA and EU affairs minister Vidar Helgesen, Statoil said in its press release.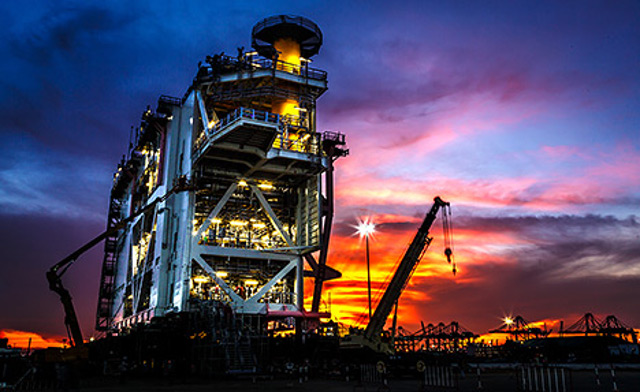 Image: Statoil
A lot of gas to carry. EEA and EU affairs minister, Vidar Helgesen (right), with senior vice president for operations west, at the Troll A platform's gas export pipeline. 30% of Norway's total gas export to Europe travels through this pipe to the gas processing terminal at Kollsnes.
"Europe is in a transition phase with regard to both competitiveness and climate. Stable and competitive gas deliveries from the Norwegian continental shelf (NCS) play a key role along these two axes. Higher production and flexibility from the Troll field is therefore good news to both Norway and Europe," said Helgesen during his visit.

"This is a new strategic milestone for the Troll field. The compressors are an important investment to ensure sustainable, long-term production and activity on the Norwegian continental shelf (NCS)," says Gunnar Nakken, newly-appointed senior vice president for the operations west cluster.
The compressors ensure a daily export capacity from the Troll field of 120 million standard cubic metres of gas, totalling 30 billion standard cubic metres of gas per year. This is equivalent to the consumption of 10 million households in Europe.
The compressors are an important measure to meet the Troll field's long-term production profile, currently extending to 2063. They are operated by land-based power from Kollsnes west of Bergen, ensuring zero emissions of carbon dioxide and nitrogen oxides from the platform.
The main supplier Aibel built the compressor module at its yard in Thailand, the integrated utility (IU) module was prefabricated in Poland and assembled in Haugesund, where the smallest module was also built. The three modules total more than 6,000 tonnes.
Source: statoil.com