Damen-built 80-metre ice class RoPax ferry MV Veteran was handed over to the Government of Newfoundland and Labrador (GNL) in St. John's, Newfoundland, Canada on 23 October 2015.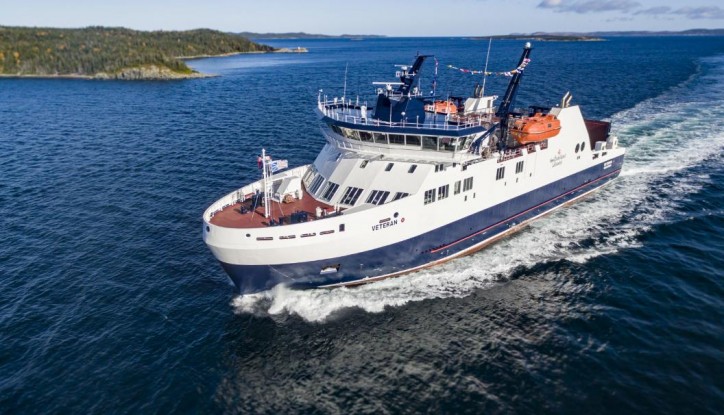 Image: Damen
The vessel will start services from Fogo Island and Change Islands before the end of November.
Announcing the arrival of the vessel, Premier Paul Davis of the Government of Newfoundland and Labrador said:
"The arrival of the MV Veteran is a proud moment for our province and the residents of Fogo Island and Change Islands."
MV Veteran is the first of a two-vessel contract, with a design stemming from a Canadian-Danish partnership between Fleetway and Knud E. Hansen.
The sister ship, the MV Legionnaire, launched by the same shipyard on 15 July 2015, is scheduled for delivery in the spring of 2016. MV Legionnaire will operate on the short-haul route, the busiest route from Portugal Cove to Bell Island.
Both vessels are part of a large "lifeline" vessel replacement programme being undertaken by the Provincial Government to modernise its fleet.
These 200-passenger vessels have roll-on, roll-off capacity for 60 vehicles. The 80.9 long MV Veteran with a beam of 17.2 and cruising speed of 14 knots, will replace the MV Earl Windsor built in 1975. The sister ship will replace the MV Beaumont Hamel which dates from 1985.
In addition, a certified Damen maintenance centre for these vessels is being established in the capital of the Newfoundland and Labrador region, St. John's.
Source: damen.com