The navigation bridge of the El Faro is missing from the shipwreck that was found Saturday (Oct 31) in 15,000 feet of water east of the Bahamas, and the data recorder has not been found, the National Transportation Safety Board said Tuesday.
The bridge — the captain's operation center — and a deck below it separated from the cargo ship, the agency said.
A USNS Apache crew operating the search vehicle, a submersible called the CURV-21, were also unable to find the ship's data recorder, or "black box," which could hold a wealth of key information.
An NTSB statement said searchers plan a broader sonar survey of the area around the ship to map the debris and find the bridge structure.
Thirty-three people died when the ship, on a weekly run between Jacksonville and San Juan, Puerto Rico, sank Oct. 1 after losing propulsion and taking on water as winds and waves from Hurricane Joaquin enveloped it.
The new sonar search might start as early as today, said Eric Weiss, an NTSB spokesman. Both the sonar and the submersible operate with lines tethering them to the Apache, and Weiss said it's necessary to bring one to the surface before launching the other. The two systems can also be combined, when necessary, according to a fact sheet from the Navy's Supervisor of Salvage and Diving.
Searchers have reviewed sonar of nearby debris but haven't spotted any items they think are likely to be the missing bridge.
It's not clear how long the new survey will take.
While the investigation of El Faro's sinking unfolds, a LNG-powered ship that had already been scheduled to replace it has arrived in Jacksonville.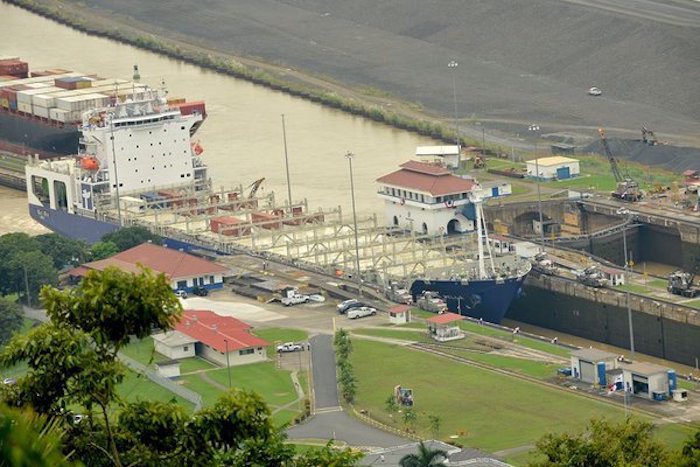 Image: Panama Canal Authority
The M/V Isla Bella is scheduled to leave Friday on its first run to San Juan. The 736-foot vessel entered port Monday evening, said Coast Guard Petty Officer Anthony Soto.
The craft has drawn wide attention in the shipping industry, being labeled "the most environmentally friendly containership in the world today" by the Coast Guard captain who issued its inspection certificate last month in San Diego, California.
It's designed to hold up to 3,100 standard 20-foot containers, where El Faro, which transported both containers and vehicles, was designed to handle 1,200 containers and 380 trailers.
Source: staugustine.com