The Philippine Red Cross will have a new ship that will be used for its disaster response and relief efforts come February next year.
The Susitna Ferry will be plying the Philippine Sea delivering food and supplies to island shores and serving as a floating hospital after hurricanes if a near-final sale is completed between the Matanuska-Susitna Borough and the Philippine Red Cross. The Assembly gave Mat-Su Borough Manager John Moosey the approval to finalize the deal, which was signed on September 01, 2015.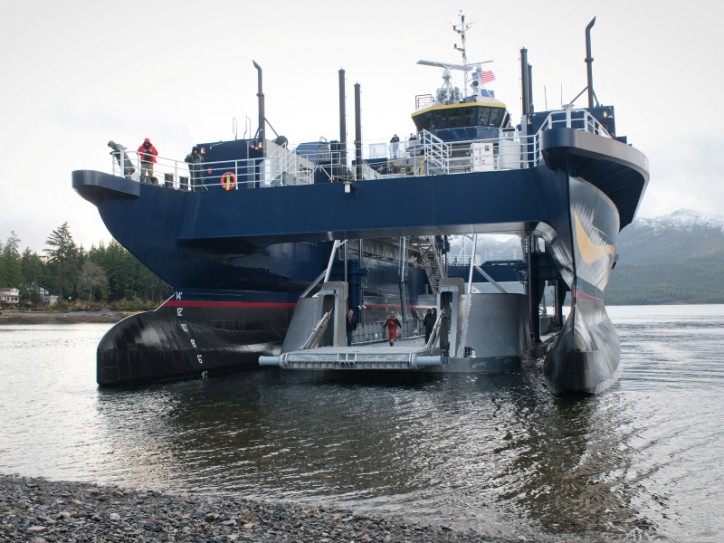 Image: gpai.com
For $1.75 million, the international humanitarian organization was interested to buy the Susitna Ferry, a ship that is capable of operating as both a cargo-loaded barge that can haul itself onto shore and a twin-hulled vessel that cuts through choppy seas. The Susitna was built as a smaller scale prototype for the U.S. Navy, which funded most of the construction costs for the $80 million vessel.
The Philippine Red Cross wants to put the vessel's agile operating modes to work in the disaster-prone Philippine Islands. Richard Gordon, Chairman and CEO of the Philippine Red Cross and also a former Senator of the Republic of the Philippines, highlights how.
"There is an average of 170 maritime accidents in the country every year, mostly in the Visayas area. The ship will be used to provide disaster relief and emergency services. It will also provide search and rescue services after maritime disasters. The Susitna will serve as a mobile clinic/hospital ship serving some of the most isolated of the 7,107 Philippine Islands.," he said. "This ship will also be made available to other Red Cross societies in other countries for saving lives. Other government and non-government organizations involved in disaster relief and recovery operations may avail of the vessel," Gordon said.
Red Cross Chairman Gordon revealed the development in a press conference on Wednesday (Nov 4), two years after super typhoon Yolanda (international name Haiyan) pummeled the Visayas.
"Because Yolanda [struck] in an [island] where McArthur landed that was completely isolated by the damage it caused, by February I hope we will bring in a ship that can land on any beach in this country or for that matter beyond the Philippines," Gordon said. "It's gonna come down here. We can bring all the logistics out here so that we could immediately go into the task of alleviating human suffering and supporting the people so that they can get back on their lives right away," he added.
Source: matsugov.us