Environmental organization Sea Shepherd has announced its second campaign to target illegal Patagonian and Antarctic toothfish operators in the Southern Ocean; Operation Icefish 2015-16.
Led by returning Captain, Sid Chakravarty, Sea Shepherd says it will once again focus its attention on defending the pristine waters of Antarctica, with the aim to eliminate illegal fishing of vulnerable toothfish from the region.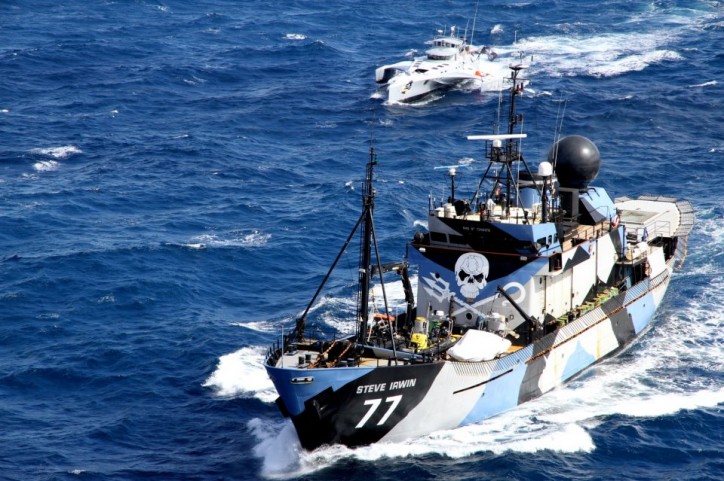 The flagship of the Sea Shepherd fleet, the Steve Irwin, will depart from Melbourne, Australia in December to patrol an area outside of national jurisdiction where the risk of detection of fishing crimes by law enforcement authorities is minimal.
Sea Shepherd says its crews will employ innovative direct-action techniques to fill a law enforcement void that continues to be exploited by the remaining illegal toothfish vessels.
"The illegal operators of the Southern Ocean exist with a resilience that can be tackled only by the determination of Sea Shepherd," said Chakravarty. "The oceans are in peril and our actions remain the only proactive and definite policing presence to tackle illegality."
Top predators in the waters of the Southern Ocean, toothfish are a unique, long-lived species that are particularly vulnerable to over-exploitation due to their slowness to reach sexual maturity and high market value.
More commonly known by their market name "Chilean Sea Bass," toothfish live in Antarctic waters in depths of 300 to 2,500 meters; the coldest waters on Earth. Though only limited scientific information exists on the fish, illegal fishing is shown to have had a devastating impact on populations, leading to collapse and closure of some fishing areas, says Sea Shepherd.
Last year's Operation Icefish has been one of Sea Shepherd's most successful conservation campaigns to date. At the conclusion of the five-month long campaign, five of the six known illegal toothfish poaching vessels had been detained. The sixth, Thunder, was scuttled in waters surrounding São Tomé and Príncipe following a record-breaking 110-day pursuit by the Sea Shepherd ship, Bob Barker. Sea Shepherd believes that the ship was scuttled in an attempt to destroy evidence of the Thunder's illegal fishing operations.
Cooperation between local and international authorities, including Sea Shepherd and international policing agency Interpol, resulted in unprecedented fines and jail sentences for some of the companies and individuals behind the poaching operations.
Sea Shepherd has continued to monitor the movements of the remaining illegal vessels throughout the year and understands that two of the Interpol-wanted poachers, Viking and Kunlun (Taishan), have since escaped from custody. It will be these two vessels that are the focus of the new campaign.
In October, the keel was laid for Sea Shepherd's new Antarctic patrol vessel under construction at Damen Shipyards Antalya in Turkey. In January this year, the Dutch Postcode Lottery granted 8.3 million euros ($9.4 million) to Sea Shepherd for the construction of the vessel.
Source: maritime-executive.com