At the impact testing site of Daewoo Shipbuilding & Marine Engineering's (DSME) Okpo shipyard in Geoje, South Gyeongsang Province, a crane set 1-ton and 7-ton steel pendulums, respectively to a ship block. After a while, cranes dropped the pendulums, which fell on the block with a loud clunking noise.
The experts of DSME and global leading ship inspection companies carried out a painstaking search of the block but couldn't find any cracks in the welds.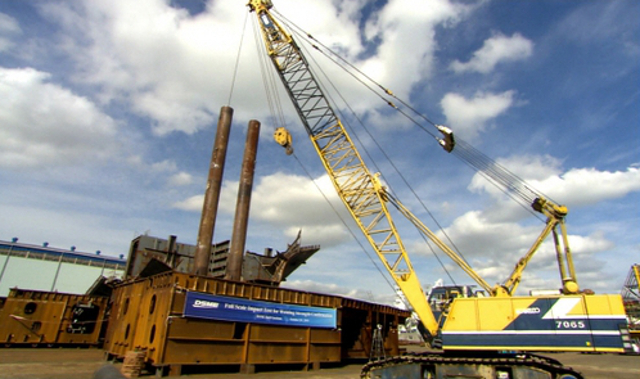 DSME announced on Nov. 10 that it has successfully completed the impact testing for the world's first ice-breaking liquefied natural gas (LNG) carrier for which the company won a contract last year.
DSME conducted the test for about three weeks last month by building blocks of structure and size similar to its ice-breaking LNG carrier and applying a strong impact on it. The company was the first in the shipbuilding industry to run a mock-up test on the ship.
In order to produce an equivalent impact of a 2 meter thick ice sheet on the ship, the 1-ton and 7-ton steel pendulums were dropped from a height of 5 to 7 meters and 1 to 2 meters, respectively. However, no cracks were found in the welds, proving its durability. The test was observed by ship owner, charterer and seven global leading ship inspection officials.
DSME won a deal to build 15 ice-breaking LNG carriers last year and is scheduled to deliver them from the second half of next year.
An official from DSME said, "Based on our icebreaking vessel building experience this time, we are planning to improve our Arctic-capable shipbuilding technology."
Source: businesskorea.co.kr