Oman Shipping Company (OSC) has performed the naming ceremony for two new product and chemical tankers – the Muscat Silver and Rustaq Silver.
The ceremony took place at the Hyundai Mipo Dockyard in Ulsan, South Korea. OSC will now take delivery of the Muscat Silver as part of a deal which will see 10 MR tankers delivered to it over the next year.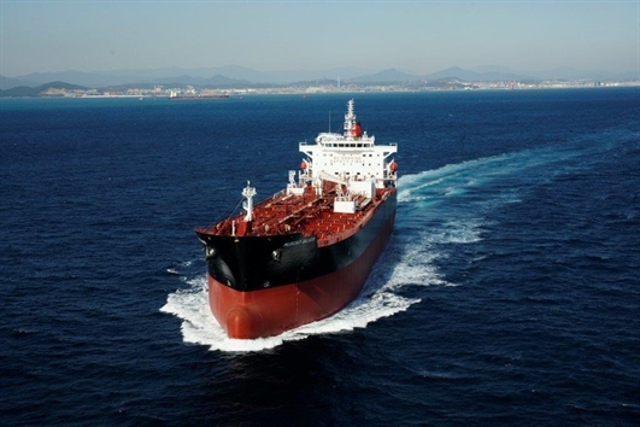 Image: tankershipping
All the vessels will be chartered to Shell International Trading and Shipping Company Ltd for its Project Silver, which consists of 50 new-builds. They will each operate worldwide with 20-strong crews - including a number of Omani officers.
The Muscat Silver and Rustaq Silver are both 183 metres in length and 32.2 metres wide, with a depth of 19.1 metres. Each medium range tanker's capacity was 37,900 metric tonnes at the design draft and 49,800 metric tonnes at the scantling draft. The both have a gross tonnage of 29,354 tonnes and net tonnage of 12,195.
OSC General Manager Wasam Al Najjar, said OSC – already one of the biggest ship operators in the Gulf – would strengthen and consolidate its position in the hydrocarbon shipping sector with the new vessels.
"The delivery of the Muscat Silver boosts OSC's fleet to 44 ships," he said. "This is just the beginning of our expansion too with the next nine ships due to be delivered within 12 months, which is testament to OSC's capacity and ambition. Our investment in new ships demonstrates we can offer the very best, and very latest, shipping solutions to major operators like Shell. Entering into new joint venture agreements to expand our fleet is the key to OSC's ongoing business development."

"OSC will also be offering ship management services for both vessels via its subsidiary Oman Ship Management Company (OSMC). OSMC is a crucial part of OSC and is 100 per cent committed to maintaining the highest international standards of safety. Operating safely, ethically, environmentally responsibly and cost-efficiently is central to OSMC's mission. Rated a 'better operator' by the Tanker Management Self-Assessment (TMSA) programme, we believe OSMC offers customers tremendous value and a dedicated, personal service, underpinned by years of knowledge and experience."

"The continued growth and success of OSC will play a key role in the Government's wider plan to diversify the Omani economy. Under the Government's wise vision maritime, ports and shipping are fundamental to the future prosperity of Oman driving job and wealth creation."
Incorporated in 2003, OSC is owned by the Omani Government through the Ministry of Finance (80 per cent) and Oman Oil Company (20 per cent).
Launched with the acquisition of six LNG Vessels, OSC has since diversified into the crude oil, chemical, LPG, dry bulk, container and general cargo markets.
Aside from Shell, other customers have included Mitsubishi Corporation, Itochu Corporation, Oman LNG, Qalhat LNG, Petronet, Qatar Gas and Oman Refinery & Petrochemical Company.

The company is also involved in ship owning and ship chartering through its subsidiary companies Oman Charter Company (OCC) and Oman Container Line (OCL).
Source: tankershipping.com