An oceangoing bulk freighter anchored for nearly two weeks in Lake Superior is being held outside Duluth, Minnesota, while the U.S. Coast Guard investigates potential environmental law violations.
The Cornelia, a 16,800-ton German "saltie" home-ported in Monrovia, has been held there since Nov. 5 after loading a cargo of grain in Superior, Wis.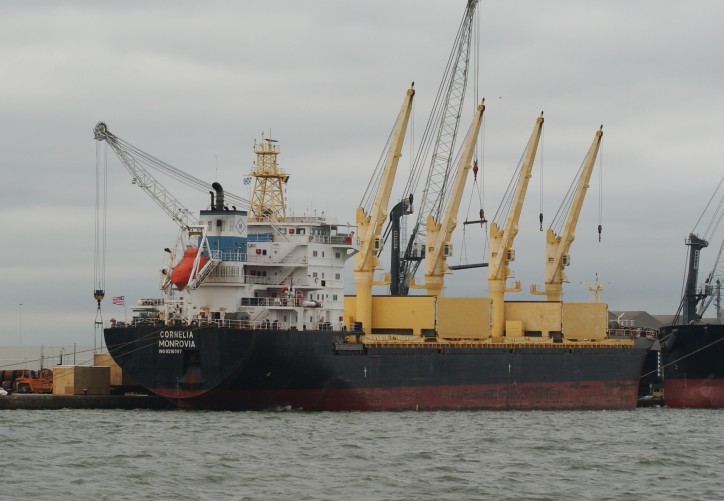 Image: miranda reiffers te loo
On Tuesday, Nov. 17, Chief Petty Officer Lauren Jorgensen with the U.S. Coast Guard 9th District office in Cleveland, said the ship and its crew are prohibited from leaving port until given clearance by U.S. Customs.
"The Coast Guard is investigating the vessel for alleged violations of U.S. environmental regulations," Jorgensen said. "Because the investigation is ongoing, there are really no other details I can provide at this point."
Ben Petok, communication director with U.S. District Attorney's office in Minneapolis, would only confirm there was an active investigation. Any charges stemming from the investigation would be issued by federal prosecutors there.
Petok and Jorgensen separately said the ship poses no public safety threat. No individuals have been detained as part of the investigation.
Jorgensen declined to specify whether the violation fell under the U.S. Clean Water Act, The Refuse Act, The Act to Prevent Pollution from Ships, or another U.S. environmental law typically investigated by the Coast Guard.
Greg Ukkola, grain operations manager for the Wisconsin Department of Agriculture Grain Regulation, said earlier this month that a cargo examination during loading showed no irregularities.
The ship anchored for several days before entering the Duluth Ship Canal on Nov. 2. According to the Duluth Shipping News, the ship also took a load of grain in May and made previous trips to Duluth in 2012 and 2013.
The Cornelia is owned by Mineralien Schiffahrt (MST), a German dry bulk cargo shipper. The 15-year-old, single-deck, 576-foot ship flies the Liberian flag.
Source: mlive.com