A disturbing video appears to show the Greek coast guard deliberately sinking a life raft full of refugees.
The footage recorded on November 12 shows a crewman on a Greek-marked coast guard ship jabbing a sharp pole into an inflatable boat full of people.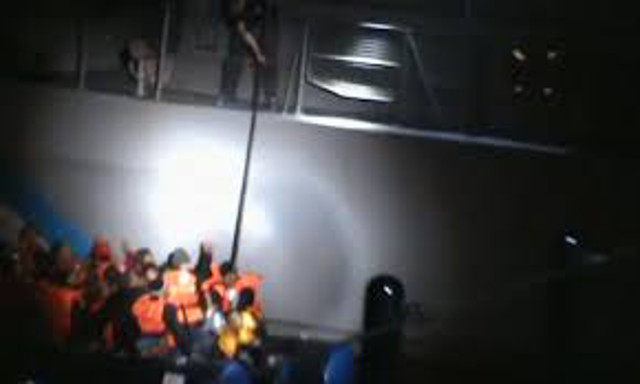 The 58 passengers on board the raft start to scream with fear while the vessel sinks – and the Greek ship sails away. A Turkish boat later arrives and pulls the refugees out of the water. They were then taken to the Turkish port city of Didim.
The video was released by the Turkish government. An official said they had showed it to the head of the Hellenic coast guard earlier in the week, and had asked them to stop.
Commander Athanasios Athanasopoulos was 'shocked' and promised to take action against it happening again, according to the Turkish media Hurriyet Daily News.
'The Turkish coast guard regularly films its rescue operations, and has previously shared footage with international media,' a Turkish government official told Middle East Eye, on the condition of anonymity. 'But this is shocking. We expect that this footage will be investigated – it's difficult for us to understand why they would try to sink a refugee boat.'
Amnesty International has also viewed the footage, and said it was 'profoundly concerned'. It has now urged the Greek authorities to launch a 'prompt, thorough and impartial investigation into the incident'.
The organisation's Greece researcher, Kondylia Gogou, told Middle East Eye that Amnesty has been informed of four separate 'push-backs' from Greece – where authorities illegally prevent people from seeking asylum.
Source: metro.co.uk