Global marine terminals operator DP World's flagship Jebel Ali Port has received the world's largest Maersk Triple E-Class container vessel, the Magleby Maersk, which is on its maiden visit to the region.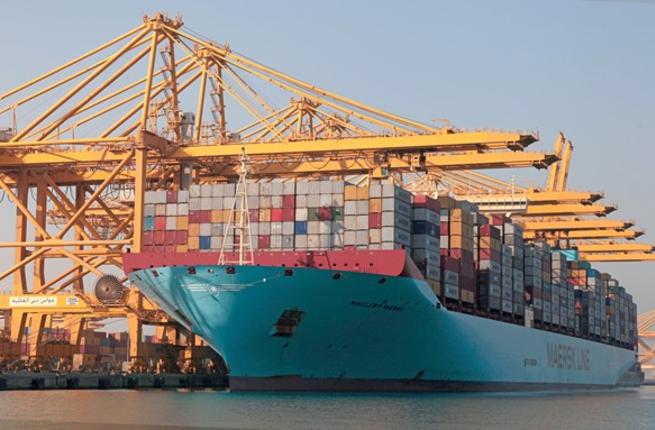 Image: albawaba.com
The management and operations team at Jebel Ali rolled out a well-drilled operation to welcome, berth and service the mammoth liner with the clockwork-like precision that has made the container port the most productive in the world.
The 18,270 TEUs (twenty-foot equivalent container units) capacity vessel was welcomed by Mohammed Al Muallem, Senior Vice President and Managing Director, DP World, UAE Region and officials from Jebel Ali Port who were also joined by Dubai based Maersk Line top officials including Mark Rosenberg, Head of Procurement, Maersk Line.
A commemorative plaque marking the occasion was presented on behalf of DP World to Captain Maagaard, Master of Magleby Maersk.
Jebel Ali is one of the very few ports in the Middle East equipped to receive containerships of the size of Magleby Maersk, a Triple-E class vessel with an overall length of 399.2 meters, equivalent to four football pitches.
The Magleby Maersk moulded beam is 59.00 metres wide and the ship has a maximum draft of 16.50 metres. Maersk Line operates the carrier on its 2M Europe-Asia route.
Source: albawaba.com