Two local ship repair companies considered major tenants at Port Tampa Bay merged operations Monday (Nov 30), a move designed to better position them for future growth.
Gulf Marine Repair Corp. and Hendry Corporation, with a combined 140 years of business experience and a common ancestry, will now go by the name Gulf Marine. Both companies are owned by Hendry Marine Industries, LLC.
While the merger initially led to 25 employees being laid off due to redundancy, newly named president Rick Watts said he believes the company will experience enough growth in 2016 to add those positions back, plus some. "I could see employee growth of 10- to 20 percent, truthfully." At present, the company has 295 employees.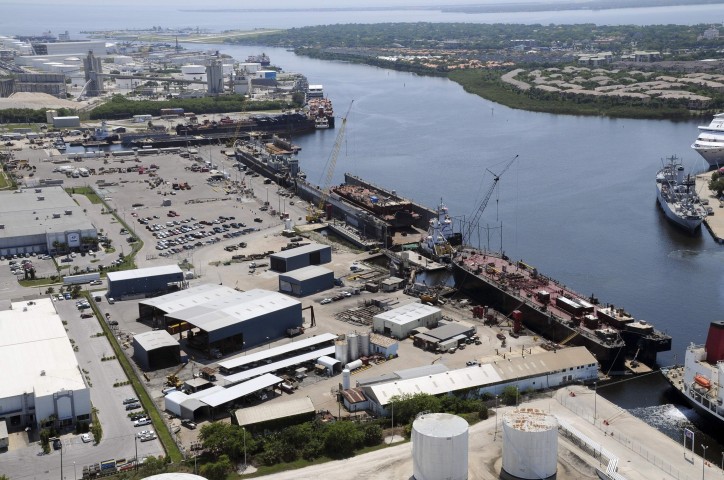 Image: gulfmarinerepair
Aaron Hendry, CEO for Hendry Marine Industries, LLC and former president of Gulf Marine, will remain CEO of the newly consolidated company. Watts, now president, served as vice president at Gulf Marine beginning in 1993. He started with the company in 1978 as a welder's helper and worked his way through the ranks, he said.
Watts said the merger should allow the company to operate more efficiently and be better positioned for growth.
"Gulf Marine is known for its quality repairs. The intent of this consolidation is to create a focus, flexibility and competitiveness that will meet both the needs of existing customers and the emerging markets."
While Gulf Marine has always been a full service shipyard focusing on tug and barge repair, Hendry has focused more on Coast Guard and other quasi-governmental vessels, as well as on small freighters and smaller tug boats.
Hendry Corp. was formed in 1926 by the late Capt. F.M. Hendry - Aaron Hendry's father - who believed in performing difficult repairs while keeping prices within reason, according to the company's published history. It made several metamorphoses before landing at Port Tampa Bay as a full service shipyard.
Gulf Marine, a full service drydock/repair facility, was founded in 1988 when Aaron Hendry purchased the former Gulf Tampa Drydock.
The transition to one company will result in the combination of shipyard assets and workforces to serve a much broader customer base, Watts said.
"Repairing tug/barge units and ships is not an easy job," Watts said. "Our employees take pride in what they do and we take pride in our relationship with our employees."
In preparation for the merger, Aaron Hendry created an Employee Stock Ownership Plan to allow team members to participate in the company's success. This plan is one of the first in the ship repair business, according to a press release issued on the merger, and is designed to reflect the company's commitment to engaging and maintaining a world class ship repair workforce.
"Mr. Hendry thought it would be a good idea to reward the employees, so he sold part of the company to employees," Watts said.
Those with the most tenure and the highest salaries received the most stock for the privately held company. Watts said employees may get more stock as the company grows and profits increase.
Port Tampa Bay offers the only full service ship repair businesses between Pascagoula and Norfolk. Just last week, International Ship Repair & Marine Services, Inc. announced the acquisition of a 10th drydock, one that gives it the capability to repair massive new ships at Port Tampa Bay and double its workforce to 500 over the next eight months or so.
Just three years ago, Gulf Marine Repair, which leases 25 acres at Port Tampa Bay, received a $1 million grant from the U.S. Department of Transportation to upgrade and modernize its primary drydock facility. Hendry Corp. owns another 31.5 acres at the port. Watts said that physical footprint won't change.
Source: www.tbo.com