Japanese coast guard officials and police are trying to unravel a disturbing mystery. Over the past two months, nearly a dozen wooden boats have been found adrift along the Sea of Japan coast carrying the bodies of 25 people. Authorities believe the ships are from the Korean Peninsula.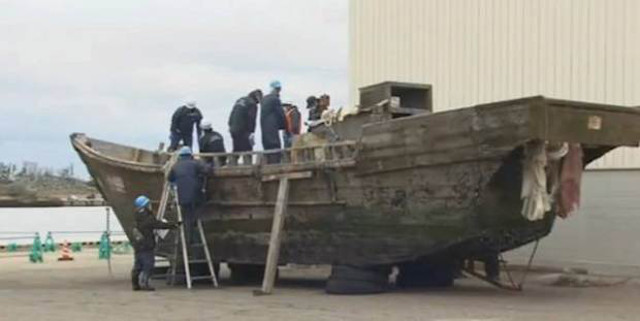 One vessel was found drifting in rough waters 100 kilometers off the coast of Fukui Prefecture. When it was towed into a port on Tuesday, authorities found 7 bodies inside. A similar incident occurred last Friday in a neighboring prefecture. In total, the bodies of 10 men were recovered from three wooden ships.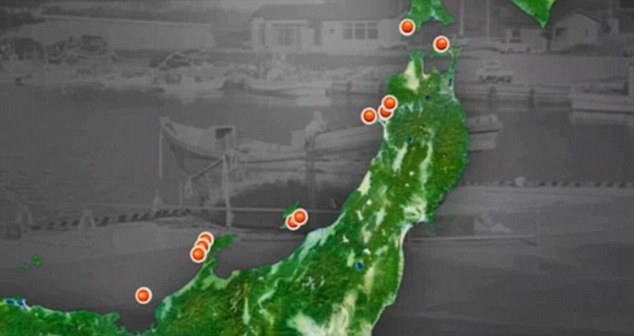 Over the last two months, 11 wooden boats have been found adrift or washed up along the Sea of Japan coast.
Police and Coast Guard officials say 25 bodies in all have been found. They are trying to figure out where the boats came from, and what happened to those onboard.
A tattered piece of cloth found on one of the boats looks like it could be from a North Korean national flag. Authorities say the Hangul written on a board reads "Korean People's Army."
Maritime expert Yoshihiko Yamada says the vessels have a striking resemblance to those used by defectors from North Korea. He explained why they may be showing up on Japan's shores, saying "they are made of wood and are old and heavy. They can't travel very fast and the engines are not powerful enough to turn the ships against the currents."
A report broadcast on North Korean TV on Wednesday shows the country's leader inspecting a fishery office. In the footage, Kim Jong-un flashes a wide smile for the camera in front of a pile of fish. The report says he instructed workers to develop the fishing industry to help people improve their livelihoods.
Satoru Miyamoto, an associate professor at Seigakuin University explains "under Kim Jong-un, the country has increased efforts to ensure self-sufficiency. This is one of the reasons why consumption of marine products has been increasing."
Experts say these boats may be evidence of efforts to carry out Kim's orders. Without the help of radar and other technology, they capsized, and may have been drifting for months.
Source: www3.nhk.or.jp