The Port of Mombasa risks losing its competitive edge following a wave of cargo theft that has hit the supply chain along the Mombasa-Malaba highway, importers and transporters have warned.
The Kenya Revenue Authority (KRA) describes the theft of the cargo as "a grave concern" but says it cannot quantify the loss. KRA Southern Region manager George Muia said the taxman has launched investigations into the theft and diversion of transit goods into the local market, which is blamed for the failure to meet revenue targets. He said that the ongoing probe conducted by the Revenue Protection Unit will be extended to Uganda and Rwanda.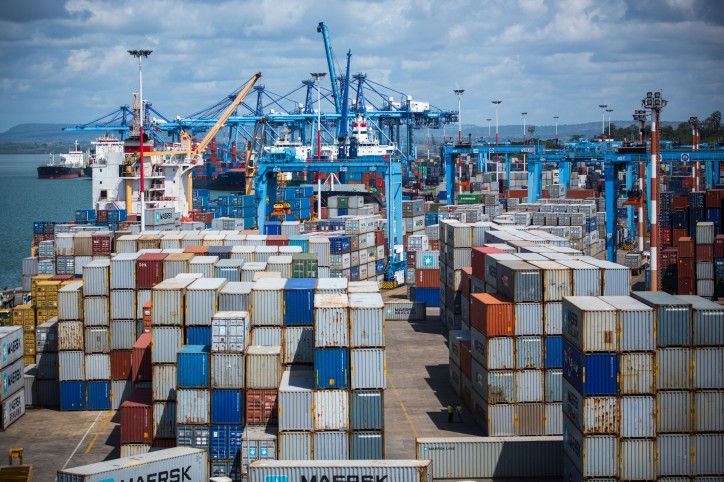 Image: Port of Mombasa container terminal / commons.wikimedia.org
"An investigation is going on. But to start with, we have imposed sanctions on two Electronic Cargo Tracking System (ECTS) seal providers that have had repeated cases of interference," said Muia.
A status report compiled by transporters and customs agents reveals a spike in cargo pilferage or theft along the highway by a cartel able to interfere with cargo tracking systems undetected.
The report handed to the National Police Service Commission reveals that in the month of September and October, 65 cases of attempted or actual theft of goods from containers fitted with the mandatory ECTS were documented by the Kenya Transporters Association (KTA) and customs agents.
Transporters say they are suffering losses running into millions as a result. The Standard established that officers from the Ethics and Anti-Corruption Commission as well as the Directorate of Criminal Investigations are expected in Mombasa this week to probe the alleged theft of more than 2,000 containers loaded with assorted items destined for Uganda in the last nine months.
Supply chain stakeholders are puzzled at how the theft is taking place undetected despite the ECTS system being in place.
Source: standardmedia.co.ke