Ceremonial ship launching is the process of transferring a vessel to the water. It is a naval tradition in many cultures, dating back thousands of years. It has been observed as a public celebration and a solemn blessing.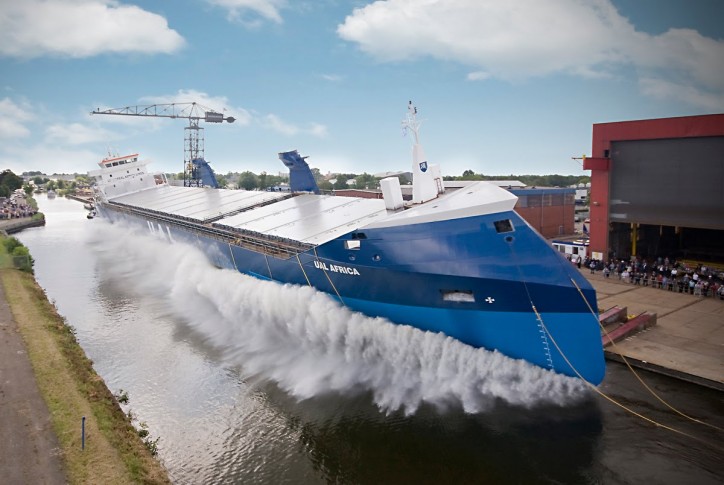 In addition to the size and weight of the vessel, ship launching imposes stresses on the ship not met during normal operation, and represents a considerable engineering challenge, in addition to a public spectacle.
There are three principal methods of conveying a new ship from building site to water, only two of which are called "launching." The oldest, most familiar, and most widely used is the end-on launch, in which the vessel slides, usually stern first, down an inclined slipway.
The side launch, whereby the ship enters the water broadside, came into 19th-century use on inland waters, rivers, and lakes, and was more widely adopted during World War II.
The third method is float-out, used for ships that are built in basins or dry docks and then floated by admitting water into the dock. In all cases heavy chains are attached to the ship and the drag effect is used to slow the vessel once afloat until tugboats can move the hull to a jetty for fitting out.
Sometimes ships are launched using a series of inflated tubes underneath the hull, which deflate to cause a downward slope into the water. This procedure has the advantages of requiring less permanent infrastructure, risk, and cost. The airbags provide support to the hull of the ship and aids its launching motion into the water, thus it is arguably safer than other options like sideways launching. These airbags are usually cylindrical in shape with hemispherical heads at both ends. The Xiao Qinghe shipyard launched a tank barge with marine airbags on January 20, 1981 and it is known as the first use of marine airbags.
Watch some videos representing the above mentioned methods of ship launching: Awesome big ship launches, successful and not so successful ones; an old-archive video and a video showing launch of a brand new $10million yacht, which went terribly wrong.