Graig Ship Management has signed a deal with a prominent Chinese group to add two newbuild Capesize vessels to its ship management fleet.
The vessels are scheduled for delivery in 2016 from Shanghai Waigaoqiao Shipyard where the Graig newbuild supervision team are also engaged in the oversight of sister vessels for a further prominent Japanese shipowner.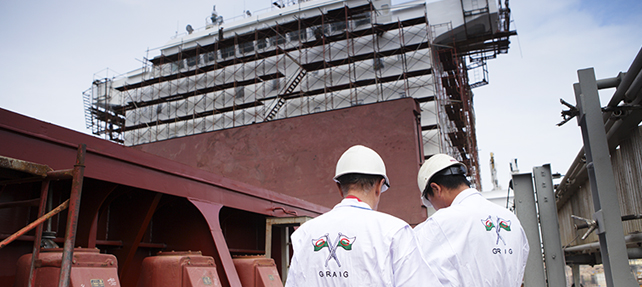 Image: Graig
The Graig fleet has continued its ship management renewal since 2012 with the steady addition of newbuild, dry bulk vessels from handysize to Capesize creating a young and diverse fleet managed from its international offices.
Graig Group Chairman Hugh Williams was in attendance for the signing in China where the company's rich experience in dry bulk across all sizes, and the added value brought to the ship management service from close relationships and market information sharing, were highlighted as key reasons for appointing the contracts to Graig.
Steve Davies, CEO of Graig Ship Management, added that "whilst our fleet has been undergoing renewal in the past few years, the extensive experience of our crew, shore team and executive in the dry bulk arena has remained incredibly strong. Our team has significant Capesize experience and will deliver on our mission of best practice, risk managed shipping, focused on our people and our culture. As a company, we work with a small number of high calibre ship-owning clients who share this ethos and the value of the close relationships we develop with our owners. Our new client intends to continue its fleet expansion and we are excited to be developing a support strategy that covers our entire service division from newbuild supervision and ship management through to consultancy."
The number of vessels managed by Graig stands at 23 following the addition of the 2 x Capesize vessels with plans to continue further growth of the fleet into 2016.
Source: www.graig.com