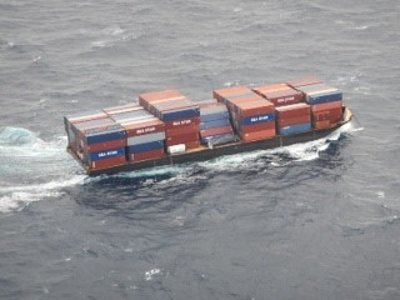 Airplanes and a helicopter searched Florida's east coast Monday (Dec 7) for dozens of missing cargo containers, while crews at the Port of Palm Beach sorted through hundreds left on a crowded barge. The effort was all to find out just what ended up in the water and whether it poses a threat.
The 340-foot barge Columbia Elizabeth was en route from Port Canaveral, Fla. to Puerto Rico on Sunday (Dec 6) when the crew of its tugboat noticed several cargo containers hanging over the side, according to the U.S. Coast Guard.
The barge was diverted to the Port of Palm Beach where it remained docked Monday. As many as 25 containers, some possibly containing batteries, fell into the ocean, according to the U.S. Coast Guard.
Just how many batteries ended up in the water, what kind of batteries they are and where they end up could determine whether they could be an environmental risk to the ocean waters and marine life off Florida's coast, officials said.
By Monday afternoon, the Coast Guard's aerial search had yet to find any of the containers.
And at the port, the unloading of the barge — which can hold more than 300 of the large containers — continued in order to reach the part of the deck where the containers slid into the ocean. Investigators are trying to find out why the cargo gave way and take inventory of what was lost, according to the Coast Guard.
"Some of them got crushed and some of them [went] over the side," Coast Guard Chief Petty Officer Ryan Doss said.
Remaining containers on the barge Columbia Elizabeth remain tilted while it was docked at the Port of Palm Beach on Monday. At least 25 cargo containers slipped off a barge Sunday and splashed into the ocean between Port Canaveral, Fla. and West Palm Beach.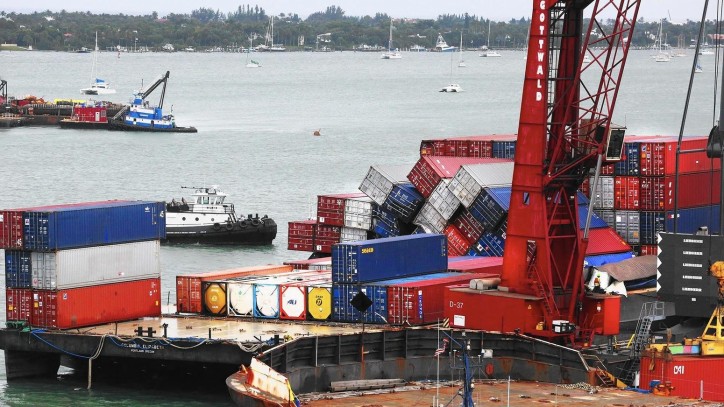 Image: Carline Jean, Sun Sentinel
TOTE Maritime, of Jacksonville, confirmed Monday that its chartered barge, the Columbia Elizabeth, "experienced an issue on deck Sunday" that caused containers to become unsecured, according to company representative Michael Hanson.
Shipping companies that lose their cargo can face fines and other penalties, but it is too early into the investigation into the cargo lost from the Columbia Elizabeth to determine if that would be warranted in this case, Doss said.
"It's not that uncommon for containers to fall overboard, especially if there's bad weather," Doss said.
Source: sun-sentinel.com