At the Brodosplit Shipyard in Split, a keel laying ceremony was held for the world's largest sailing ship with masts, which is being built for the Star Clippers Ltd. company from Monaco. The ship will be 162 metres long and 18,5 metres wide. The ceremony was attended by the shipyard owner Tomislav Debeljak and the ship owner Mikael Kraft on December 9, 2015.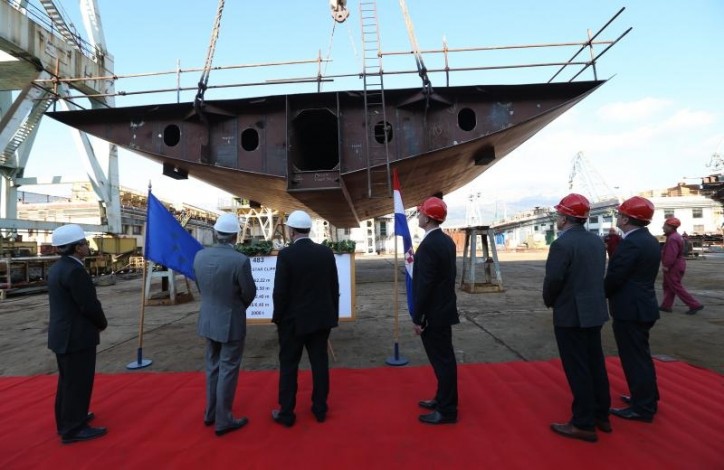 Building of the ship is funded by German KfW Ipex Bank, together with another commercial bank, and one of the prerequisites for the implementation of the loan agreement was the issuance of the insurance by the Croatian Bank for Reconstructions and Development which has assumed the risk of repayment of part of the loan which KfW Ipex approved to the owner of the ship.
The ship will have five decks and will accommodate 450 persons, with 300 passengers in 150 luxury cabins and 150 members of crew in 74 staff cabins.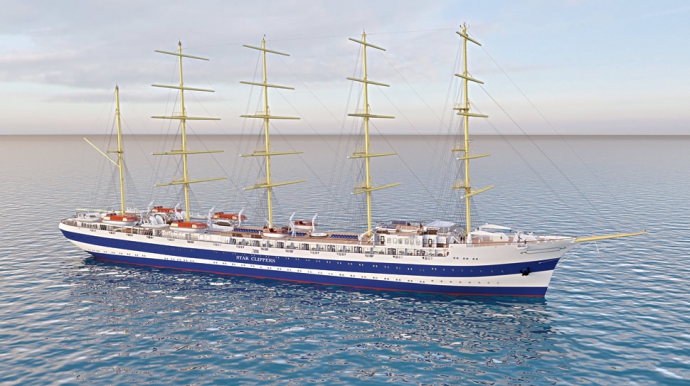 The ship is designed exclusively for sailing, although it will have two completely independent electric motors. The design process has respected the "safe return to harbour" principle. This system basically means that all the key systems on board will be doubled, which requires the construction of two engines with equipment for production of electricity and water and the second command bridge. Everything on board will be doubled, so in the event of any failure, fire or emergency, the ship will be able to return to a port from a distance of nearly 2,000 nautical miles, which is the furthest point from sea to the mainland.
It is expected that the ship will sail all around the world, even in the seas around Arctic and Antarctic, which is the reason why it will be built in accordance with the requirements for sailing in ice covered areas. The speed of the ship with sails will be from 16 knots to up 20 knots with the right weather conditions. When using the two engines, it will sail with speeds up to 16 knots.
Source: www.poslovni.hr