Clyde shipbuilder, Ferguson Marine Engineering of Port Glasgow, today launched five months ahead of schedule its third hybrid ferry, MV Catriona. This follows the launch of the world's first two diesel-lithium ion hybrid ferries from the same yard in 2012 and 2013.
The vessel is the first to be launched under the yard's new ownership by Jim McColl and Clyde Blowers Capital. Its technologically advanced low carbon hybrid system combines traditional diesel power with electric battery power, reducing fossil fuel consumption and carbon emissions by up to 20%.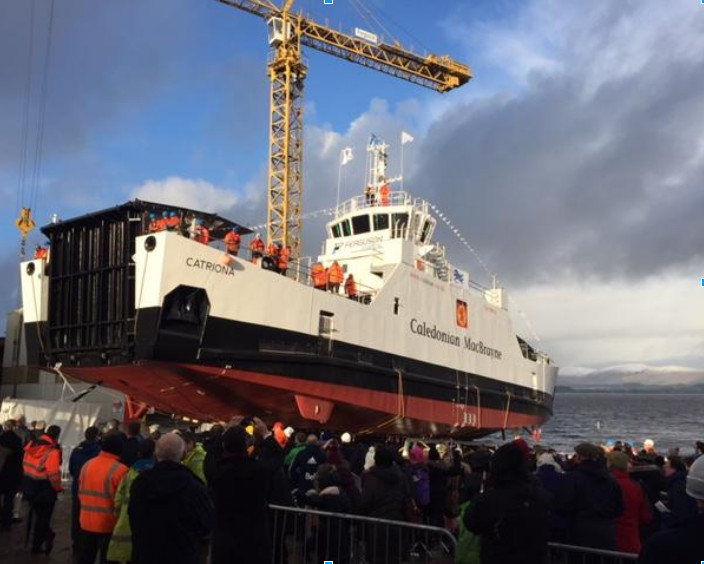 Image: Ferguson Marine
The Ferguson Marine business has seen major developments over the past year. Employee numbers have risen from 70 to 200, fifteen new apprentices have begun training, and the results of an initial investment of £12 million are beginning to take shape, with the new workers' facilities now complete and cladding of the new top sheds almost finished.
The new facilities are due for completion by May 2016, with the office block to follow by September 2016. The contract to build the UK's first two LNG roll on-roll off ferries was awarded on 16 October 2015, with these vessels due for delivery in 2018.
Clyde Blowers Chairman, Jim McColl, said: "This landmark day confirms Ferguson Marine's position as an internationally recognised shipbuilder and marine engineering business. The Catriona demonstrates Ferguson Marine's strength in building technologically advanced ships, its high value production, and its on-time, on-cost delivery."

Managing Director, Liam Campbell, said: "This is a very proud day. The launch demonstrates how the yard is going from strength to strength and confirms Ferguson Marine as a lead supplier of commercial ships in the UK and of innovative green vessels internationally. This is the yard's third hybrid ferry, and we expect there to be many more to come. We are currently investing heavily in facilities and equipment and already preparing for next challenge - the UK's first two LNG ferries. Ferguson Marine is committed to creating a bright future for shipbuilding and marine engineering on the Clyde, with all the benefits for owners and operators and for jobs and skills locally that these will bring.
About MV Catriona:
MV Catriona is hull number 727 at the Ferguson Marine (the numbering stems from the ID number given to each consecutive ship built by a yard).
The contract was awarded by CMAL in September 2014. The vessel is due to enter service in autumn 2016 and will accommodate 150 passengers and 23 cars or two HGVs. It will have a service speed of nine knots.
The vessel uses a low carbon hybrid propulsion system that combines traditional diesel power with electric battery power, reducing fossil fuel consumption and carbon emissions by up to 20%.
It is powered by small diesel generator sets, feeding power to a 400 volt switchboard that supplies power to electric propulsion motors that turn the propulsion units. Two lithium-ion battery banks, with a total of 900 kWh, also supply power to the units and a minimum of 20% of the energy consumed on board. They are charged overnight from the mains.
In addition, the vessel design and power configuration realise a further 19-24% savings of power input to the propulsion units by comparison with a conventional diesel mechanical solution, reducing CO2, SOx and NOx emissions still further.
Key facts and figures:
Length 43.5m (142ft)
Breadth 12.2m (40ft)
Deadweight 135t
Service speed 9 knots
Passengers – 150
Cars – 23
Commercial Vehicles – two fully laden 44t HGVs, but space for four
Source: Ferguson Marine