Customs officials have seized at least 2.4 tons of cocaine from a cargo ship off France's northern coast, a record for the country, officials said Friday (Dec 11).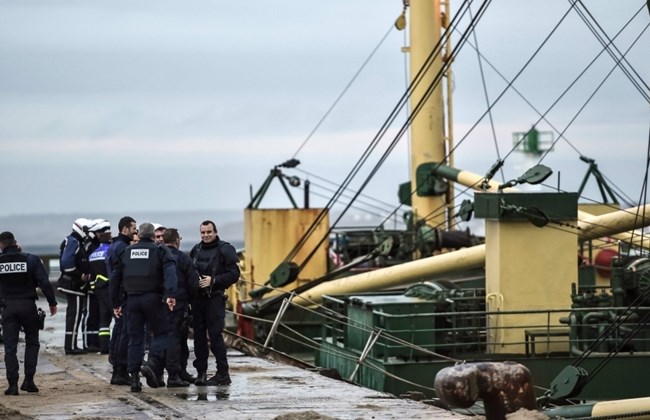 French police stand guard next to the moored cargo ship "Carib Palm" on December 11, 2015at the Port of Boulogne-sur-Mer, in the Pas-de-Calais region, after authorities seized a record-breaking 2.4 tons of cocaine from the vessel on December 10. Photo: PHILIPPE HUGUEN-AFP
The general cargo ship Carib Palm, a Moldovan-flagged freighter, had sailed from Colombia and was headed to Gdansk in Poland.
It docked at the northern French port of Boulogne-sur-Mer on Thursday night, a source close to the investigation said, confirming a report by France 3 television.
"The ship was intercepted yesterday (Thursday) at 6:30 p.m. at sea and at 8:00 p.m. was brought to the dock at Boulogne-sur-Mer, where the search operation began," the finance ministry said in a statement. "The drugs were concealed behind a metal partition."
Finance Minister Michel Sapin described the drugs as "the largest seizure of cocaine" ever in mainland France. The haul has a street value of around 50 million euros ($55 million).
Customs officials were continuing to search the ship, which was carrying raw materials.
The 12 crew members, who are Turkish and Ukrainian, were being held by customs and were set to be formally detained.
Source: www.dailystar.com