South Korea's Ministry of Oceans and Fisheries has ordered that that all bunker tankers and petroleum, oil and lubricants (POL) tankers that are dedicated to the provision of marine fuels, be registered.
With regard to POL tankers, to prepare bunker suppliers' standard of registration, the Harbor Transport Business Act was amended on 31 December 2015.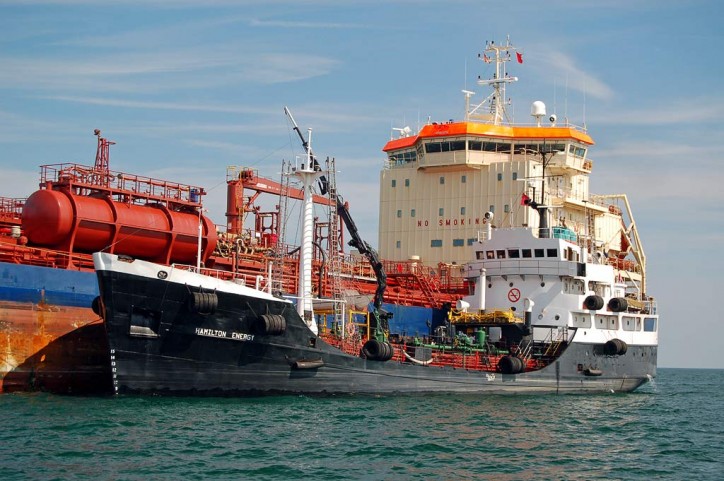 Bunkering the tanker Clipper Legend off the Port Weller Piers in Lake Ontario / Image by: David Bull
Beforehand, such tankers were not required to be registered. After incidents of oil spills accidents and price dumping, the ministry decided on the move to restore market order and fairness.
With the amended law, unregistered tankers will be barred from carrying out bunkering activities in South Korean ports. The vessels, as well as any additions or modifications, have to be registered with the relevant port authorities.
However, considering the time needed to digest the new law and to install additional equipment on their vessels, bunker suppliers and bunker tanker owners have been given an 18-month grace period to comply with the revised regulations.
After the grace period, the Korea Coast Guard and relevant organisations will crack down on unregistered bunker and POL tankers.
While bunker tankers are needed to carry out refueling operations in South Korean ports, owners of small ships preferred to be bunkered from POL tankers to save time and money. Consequently, the operators of POL tankers tended to carry out operations in smaller ports. The potential of disrupting port operations thus gave rise to the need for registration.
The ministry's port operations manager Jung Do-hyun said:
"This amendment to the law is an example of how regulations improved after the ministry's discovery of bottleneck problems, by making provisions for sufficient safety measures in view of port-specific conditions."
Source: fairplay.ihs.com