Singapore Technologies Marine Ltd (ST Marine), the marine arm of Singapore Technologies Engineering Ltd (ST Engineering), Thursday (Jan 7) held the Interim Delivery and Acceptance ceremony for the third Patrol Vessel (PV), RNOV Sadh, together with the Naming Ceremony for the fourth PV, RNOV Khassab, built for the Royal Navy of Oman (RNO). The Guest-of-Honour was the Commander of the Royal Navy of Oman, Rear Admiral (RADM) Abdullah bin Khamis bin Abdullah al-Raisi.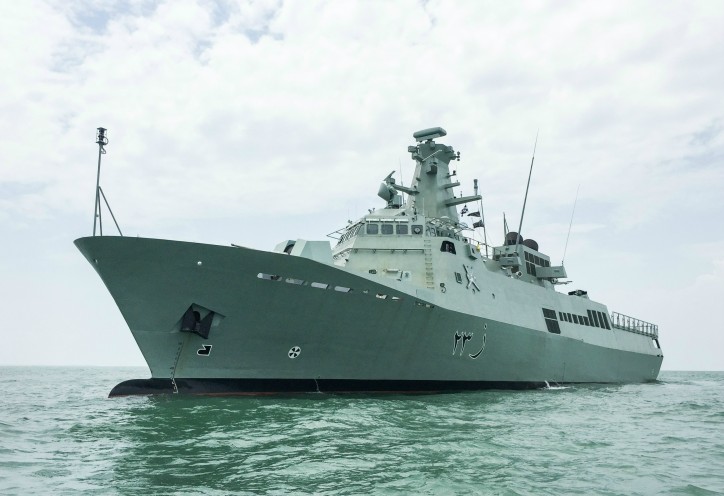 RNOV Sadh is the third patrol vessel designed and built by ST Marine for the Royal Navy of Oman
The contract for the design and build of the four Al-Ofouq class of PVs was awarded by the Ministry of Defence of the Sultanate of Oman in April 2012. It was the largest defence export contract in ST Engineering's history. These four vessels will replace the Sultanate's current four Seeb class PVs commissioned in the early 1980s.
The Al-Ofouq class of PVs measures 75m in length and displaces approximately 1,250 tonnes. Armed with a modern weapon and combat management system the PVs are most suited for a variety of maritime and homeland security missions such as undertaking extended surveillance patrols of the Sultanate Exclusive Economic Zone.
"The Republic of Singapore and the Sultanate of Oman have a long maritime heritage. We are both great maritime nations in the past and today. We continue to place great emphasis on the preservation of sovereignty and the need to keep sea lanes open to facilitate international trade and promote economic growth for our two countries.

The interim delivery of the third vessel, RNOV Sadh and naming of the fourth vessel, RNOV Khassab are proud moments for ST Marine. These milestones are testimonies that we deliver what we promised to our esteemed customers. We understand the importance of timely delivery of the vessels to the Royal Navy of Oman as the Sultanate steps up its capability building and modernisation of its naval fleet to meet ever growing demands in the area of maritime security. As the Al-Ofouq programme draws to a close with the fourth vessel scheduled to leave Singapore in May 2016, ST Marine will not rest on our laurel but will continue to relentlessly keep our pace to ensure a smooth finish for this wonderful programme." ~ NG Sing Chan, President, ST Marine
Source: www.stengg.com