Six fishermen, one Thai and five Cambodians, have died from mysterious sickness, while they were on board two trawlers fishing in high sea near the Indian Ocean.
Twenty others were also sick and were rushed to Ranong provincial hospital soon after two fishing boats arrived on shore in Ranong Wednesday night (Jan 13).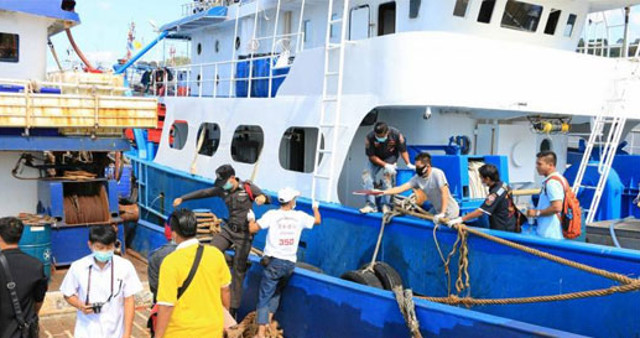 According to deputy governor of Ranong province Mr Thongchai Charoenpanichkul today, the Ranong Port-in Port-out Control Centre received urgent radio message from two Thai trawlers that six crew members have died and about 20 were also sick while they were fishing in the Indian Ocean since December 26.
As soon as authorities were alerted, public health officials and charity foundation workers were placed on standby to receive the patients at Sodsai pier in Tambon Pak Nam of Muang Ranong district.
The boats arrived last night at the pier with bodies of six fishermen frozen inside the cold storage chamber of a boat. Twenty-two others, mostly Cambodians, were admitted to Ranong provincial hospital.
Ranong public health doctor Chaiporn Suchartsunthorn said primary examination of the patients showed they suffered from acute shortage of Vitamin B that resulted in the collapse of the nervous system.
Of the 22 patients sent to hospital, four were admitted, two seriously. The rest were treated and allowed to return homes. Of the six deaths, one was a Thai and the rest were Cambodians. The exact cause of deaths of the six crews are pending autopsy.
Questionings of the skippers and the other crews revealed that both trawlers belong to operators in Samut Prakan province.
The two boats set sail to the sea and fished in the Indian Ocean since December 26.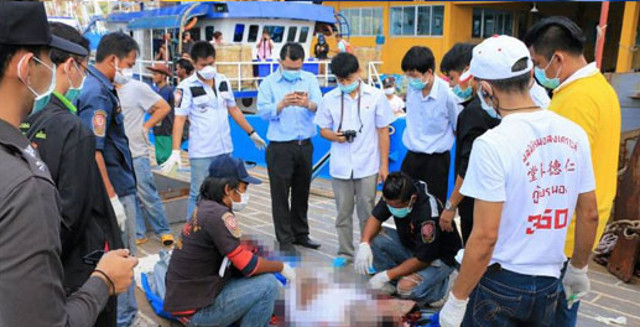 While fishing in the sea, the crews began to fall sick one after another and some have died. The skippers then kept their bodies in the cold storage chamber and started to return to shore.
Another crew died one day before the boats arrived on shore, they said.
One Thai crew said before they fell sick, one crew had managed to catch a black bird and cooked it as food to feed others. He said the skipper had earlier warned his crew not to catch any night bird coming and perching on the boat to cook as the bird came to rest. If any crew catch and cook it will bring bad luck to the boat, either be ship wreck or sickness. He said a day after eating the bird, the crews fell sick one after another, and six have succumbed to the mysterious sickness.
Source: news.thaivisa.com