The Netherlands-based company Vroon announced earlier today that it has taken the delivery of the company's newest platform-supply vessel - VOS Primrose.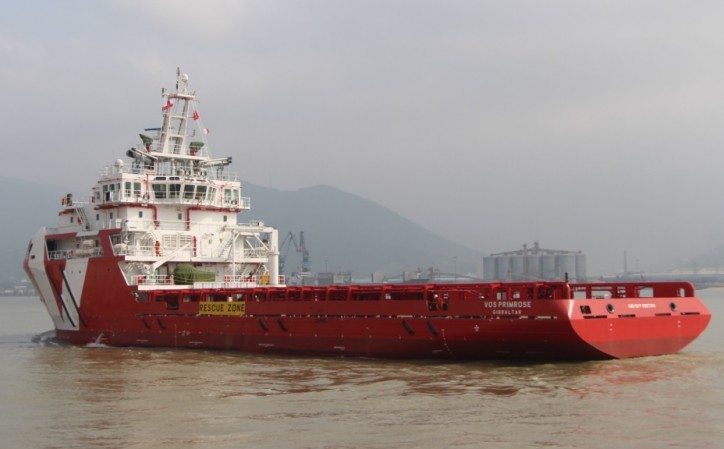 Image: Vroon
Following delivery to Vroon during a ceremony held on Jan 4 at Fujian Southast Shipyard, the vessel left the Shipyard yesterday (Jan 14) on her way to Hong Kong.
VOS Primrose is a KCM-80m platform-supply vessel (PSV) and the third in a series of eight sister vessels ordered by Vroon Offshore Services. All vessels have an SPS code and are equipped with full (under-deck) supply capabilities, that include stainless-steel tanks for the carriage of methanol. They provide accommodation and workspace for a total complement of 52 persons (comprising client staff and up to 14 crew members).

The unique vessel concept provides a free deck space of 720 m2 and is based on a design by Khiam Chuan Marine (KCM).
In close cooperation, KCM,, Vroon's Newbuilding Engineering Department, the world-renowned yacht designer KER Yacht Design & Engineering and Force Technology in Copenhagen worked together to fully optimise the design in order to ensure favourable motion and sea-keeping ability and efficient fuel consumption (both in DP mode and during transit).
Source: www.vroon.nl