Archaeologists believe a shipwreck found in the search for MH370 wreckage may have been a Peruvian-built transport ship that disappeared on its way to Sydney more than 100 years ago.
A sonar search for the Malaysia Airlines Flight that vanished almost two years ago uncovered the shipwreck deep in the Indian Ocean.
Experts have now claimed that the underwater drone images of the wreck, found 2,600km southwest of Fremantle, Western Australia, may show all that remains of the S.V. Inca.
The barque-style 950 GRT (gross register tonnage) ship set sail from Callao, west of Lima, on 10 March 1911 and has not been seen since.
'We have searched the Australian National Shipwreck Database and believe that it could be S.V. Inca,' Danielle Wilkinson from Cosmos Archaeology said.

'It may fit the parameters of the shipwreck identified in the survey imagery, but it cannot be assessed for accuracy without further research.'The map position is very close to the location of the MH370 shipwreck.'
Photographs from the State Library of South Australia show the S.V. Inca at anchor at Port Adelaide with a load of timber on 10 February 1904 - just seven years before it disappeared.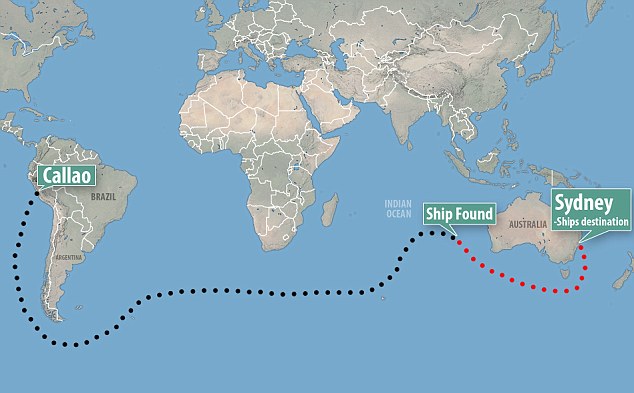 Newspaper reports from the time show that the ship was under the command of Captain Barrio, with one saying it was 163 days out.
The wreck was found underwater 3.7km or 12,100ft deep by a Joint Agency Co-ordination Centre vessel, according to the Australian Transport Safety Bureau.
One of the three ships searching for MH370, Havila Harmony, used an autonomous underwater vehicle to further examine the find and captured high-resolution sonar imagery.
Cos Coroneos from Cosmos Archaeology said the ship, which is believed to have been made from iron or steel, may have taken several hours to hit the sea floor.
'It could have taken anything up to half a day to hit the sea floor. At those depths objects are actually usually very well preserved because there are fewer things that eat wood.'
The Western Australian Museum originally conducted a preliminary review of the images and advised that the wreck was likely to be a steel or iron ship.
'It looks like a large iron or steel sailing ship sitting upright and very intact dating from mid-to-late 19th, possibly early 20th century,' museum maritime archaeologist Ross Anderson said.
'It appears it is collapsing in classic iron ship fashion with the bow and stern triangles upright and intact and side plating collapsing out to starboard.'
He estimated that it was around 80m or 260ft long, but he said he was not able to say whether it had three or four masts.
'It is all but impossible to identify ships or their country of manufacture/port of origin without being able to do more detailed artefact studies, as so many have been lost over the years,' Anderson said.
'Often the best clue is something like crockery that may have visible the name of the shipping line or similar,' he added.
Professor Wendy van Duivenvoorde from Flinders University also confirmed that the vessel would have dated to the mid-19th century. However, it has now been confirmed to be from 1911.
'It looks like a sailing ship, probably made of iron or steel. There would have been many wrecks dating from that period as it was a treacherous route.
'Many ships were swallowed in typhoons and cyclones.'
Mark Ryan from Southern Ocean Exploration agreed, saying:
'It was a very difficult passage as they crews needed to content with the weather. Often if a ship sunk there would be no survivors. Navigation was also tricky, these ships would have been away from several months.'
An Australian-led team continues to scour the southern Indian Ocean seabed in hope of finding the final resting place of MH370.
The plane vanished on March 8, 2014 en route from Kuala Lumpur to Beijing with 239 people on board.
In July last year, a 2m-long flaperon wing part washed up on a beach on the Indian Ocean island of Reunion and was confirmed to be from the ill-fated flight, marking the first concrete evidence that it met a tragic end.
Related news: 200 year old shipwreck found by Havila Harmony in the hunt for MH370
Source: www.dailymail.co.uk