The main stage of a massive exercise by the Iranian Navy kicked off on Wednesday (Jan 27) morning in the country's southeastern waters, stretching over an area from east of the strategic Strait of Hormuz to the northern parts of the Indian Ocean.
Code-named "Velayat 94", the naval drills cover an area of around 3 million square kilometers, down to the 10-degrees latitude, north of the Indian Ocean.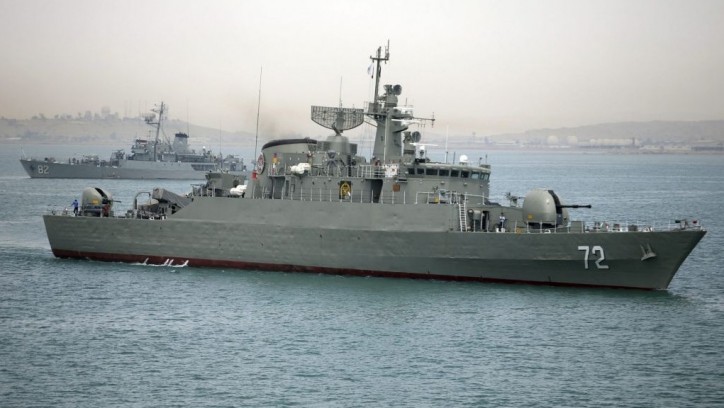 Representative Image: Iranian destroyer Alborz, seen before leaving Iran's waters on April 7, 2015 / AP
Navy Commander Rear Admiral Habibollah Sayyari ordered the start of the exercise from a base in the southeastern city of Konarak. On the first day of the drill, various homegrown vessels including speedboats and Tareq-class heavy submarine, as well as airborne units were stationed in the zone as part of exercises to prevent the hypothetical enemy from entering the country's territorial waters.
The other naval units and weapons deployed to the drill zone include coast-to-sea missile launchers, marine brigades, tactical vehicles, rocket launchers, coast-based artillery, tactical sites for electronic data processing, mobile and tactical electronic warfare systems, and airborne units.
During the first day of the drill, the Navy's combat engineering units will carry out civil defense operations as part of exercises to protect the critical regions alongside the coasts of Makran and at the Strait of Hormuz.
On Tuesday (Jan 26), the Navy commander said his forces have also warned foreign forces to leave the war game zone, saying he will unveil more details in the coming days.
Naval drills are not rare in Iran's southern waters, in the Persian Gulf and the Sea of Oman and around the strategic Strait of Hormuz.The Navy usually unveils a series of latest military equipment in its drills.
Source: www.tasnimnews.com