The vehicle carrier Modern Express was successfully rotated this morning and towage started at 11:45 hrs LT to bring the vessel away from the French shore.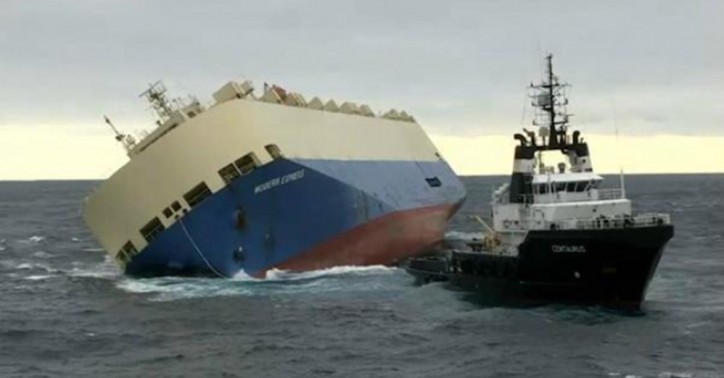 In a successful last chance operation, a team from Smit Salvage boarded the stricken vessel to secure lines as the vessel was around 46 km from shore and drifting towards the French coast.
Spanish tug Centaurus is towing Modern Express with a priority of distancing the vessel from the coast. There remains a risk of the tow line breaking, according to Prefet Maritime Atlantique, the authority with responsibility for safety of life at sea in the region.
In the event of a line breaking, an attempt will be made to secure a new line.
A plan had been put in place by French authorities in case the ship drifted until it was grounded on the shore, as bad weather prevented attempts to secure a tow line to the ship over the past few days and time was running out to control the vessel before it reached land.
The French authorities stated that should the vessel be grounded, it will be accompanied by support vessels to limit the environmental consequences.
The authorities assessed the ship's cargo of wood and machinery and concluded it poses no danger to the environment. Its 700 tonnes of fuel poses a limited risk as the diesel tanks appear to be intact with no traces of oil leaks. In the event of the grounding causing cracks leading to a fuel spill, vessels will be on the scene to deal with any pollution. The complexity of operations led to an exclusion zone being put in place around Modern Express.
Video report by a French news media shows the preparation by the local authorities in case of an oil leak from the vessel:
Smit Salvage has chartered two Spanish tugs which are in attendance, Centaurus and Ria de Vigo. The anchor handling tug and supply vessel Argonaute has been chartered by the French Navy and is on the scene, along with the frigate Primauguet and emergency tug Abeille Bourbon.
The crew of Modern Express was evacuated by helicopter after the vessel's cargo shifted, leaving the ship listing around 40-50 degrees in gale force winds and high seas on January 26.
Related news: Modern Express heading towards the French coast
Source: Lloyd's List