Belgian dredging company DEME has ordered a third trailing suction hopper dredger that will run on either diesel or LNG from Royal IHC. It ordered two similar dredgers from the Dutch shipbuilder in April last year.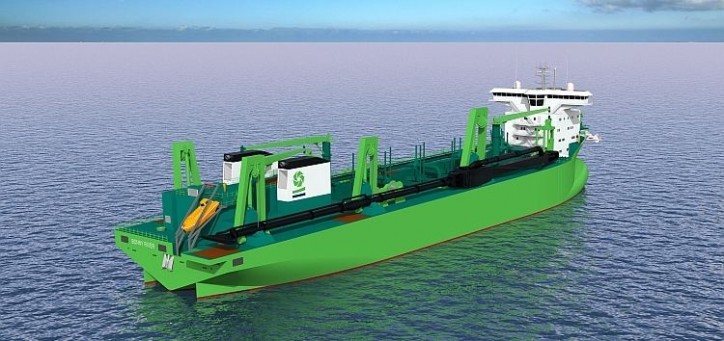 Image: DEME Group
Zwijndrecht-based DEME says the 15,000mᶾ Bonny River is a multi-disciplinary ship that can work in shallow coastal waters and in hard soils and that its hydrodynamic hull and dual-fuel capability will optimise fuel consumption and reduce the dredger's carbon footprint.
It says the vessel, built at Cosco's shipyard in Guangdong, China will be delivered in 2018. DEME has an orderbook of six ships, comprising the multi-purpose Living Stone, self-propelled jack-up vessel Apollo, heavylift crane vessel Rambiz 4000 and the two dual-fuel trailing suction hopper dredgers it ordered last year.
Source: LNGWorldShipping