VesselsValue has provided a list ranking the top shipowning nations by value, including the percentage change difference against 2015 figures.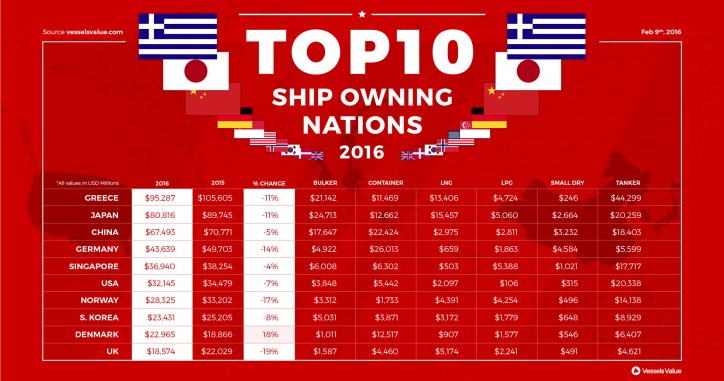 The data in this infographic contains all live and on order vessels. Image: VesselsValue
Although the order may not have changed much from last year, the standout winner appears to be Denmark as the only country on the list to increase in values over the last 12 months, up 18 percent. Recording the biggest loss in fleet value from last year was the U.K., who saw a decrease of 19 percent.
Greece, the overall leader in terms of vessel value ($95,287 million), also leads in the tanker segment ($44,299 million), while Japan leads in bulker ($24, 713 million) and LNG ($15, 457) sectors, Singapore is the LPG leader ($5,388) and Germany leads container ($26,013) as well as small dry ($4,584).
Source: Marinelink