GasLog Ltd. (NYSE:GLOG) and GasLog Partners LP (NYSE:GLOP) yesterday announced that they have entered into binding agreements for the re-financing of six vessels, representing all debt maturities for both entities due in 2016 and 2017. The re-financing was completed in two parts:
A senior and junior tranche mortgage debt re-financing on five contracted vessels of up to $576.5 million (the "Five Vessel Re-financing"); and
A sale and leaseback in Japan of the Methane Julia Louise with Mitsui & Co., Ltd. ("Mitsui"), where GasLog has agreed to sell the vessel and immediately thereafter lease it back on a bareboat charter (the "Sale & Leaseback").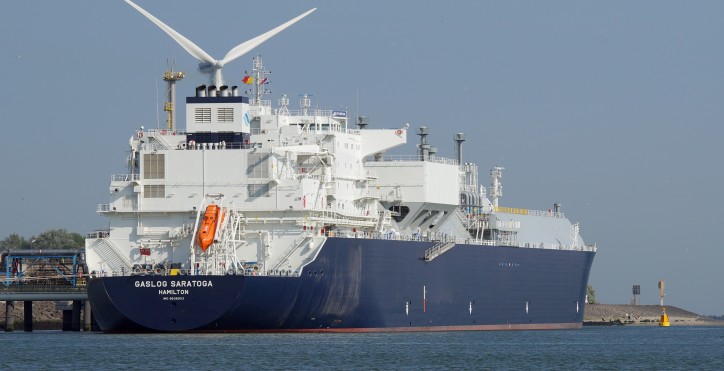 Image: Wiki
Key Highlights:
The transactions re-finance all 2016 and 2017 debt maturities leaving GasLog and GasLog Partners with no re-financing requirements until 2018;
Weighted average profile on the senior tranche of 21 years from vessel delivery;
Attractive blended margin across the senior and junior tranches;
The facility was syndicated with seven international banks;
The Sale & Leaseback allows for a future drop-down to GasLog Partners as described below;
Broadens GasLog's access to alternative sources of financing.
The Five Vessel Re-financing
This week, GasLog signed and executed a $576.5 million Five Vessel Re-financing for debt maturities, which were due in 2016 and 2017. It is comprised of a 5-year senior tranche facility of up to $396.5 million and a 2-year bullet junior tranche of up to $180.0 million.
The vessels covered by the Five Vessel Re-financing are the GasLog-owned Methane Lydon Volney and Methane Becki Anne and the GasLog Partners-owned Methane Alison Victoria, Methane Shirley Elisabeth and Methane Heather Sally.
ABN AMRO BANK N.V. and DNB (UK) LTD. were mandated lead arrangers to the transaction. The other banks in the syndicate are: DVB Bank America N.V., Commonwealth Bank of Australia, ING Bank N.V., London Branch, Credit Agricole Corporate and Investment Bank and National Australia Bank Limited.
Sale & Leaseback of the Methane Julia Louise with Mitsui
Also this week, GasLog's subsidiary, GAS-twenty six Ltd., signed a binding agreement subject only to usual ship sale and leaseback conditions, with a subsidiary of Mitsui ('Mitsui') for the sale and leaseback of the Methane Julia Louise. Mitsui itself has the right to on-sell and leaseback the vessel. The vessel is being sold to Mitsui for a total consideration approximately equivalent to its current book value. Concurrently, GasLog has agreed to lease back the vessel from Mitsui for a period of up to 20 years. GasLog has the option to re-purchase the vessel on pre-agreed terms no earlier than the end of year 10 and no later than the end of year 17 of the bareboat charter.
GasLog Partners retains its option to purchase the special purpose entity that controls the charter revenues of this vessel. This entity, together with the revenues from the charter, continue to be eligible for drop down into GasLog Partners. The vessel will remain on its 11 year charter with Methane Services Ltd., now a wholly owned subsidiary of Royal Dutch Shell plc ("Shell") following the completion by Shell of the BG Group plc acquisition on February 15, 2016.
Simon Crowe, Chief Financial Officer at GasLog and GasLog Partners commented, "With the successful completion of these two financings, GasLog and GasLog Partners have no debt maturities until 2018. The completion of this Five Vessel Re-Financing follows the $1.3 billion newbuild financing we completed in October 2015, which provided GasLog with committed financing against all of its eight future newbuild deliveries.

The terms of this Five Vessel Re-financing, which is secured against contracted, modern LNG carriers with a strong counterparty, are in line with GasLog's other secured debt facilities. The facility was syndicated across a number of international banks and we were very pleased with the appetite of the banks in the syndicate to lend to GasLog.

Through the Mitsui transaction, GasLog has broadened its access to alternative sources of financing at a very competitive tenor and cost of capital. Further, GasLog has created a new working partnership with one of the world's largest and most reputable LNG players. We strongly believe this partnership will be beneficial to both GasLog and Mitsui going forwards."
Source: GasLog Ltd.