The research vessel Aurora Australis has gone from grounded to floating off Antarctica, though dozens of expeditioners it had been carrying are no longer along for the ride.
The icebreaker -- which two years ago came to the rescue of dozens stranded on a Chinese ship -- itself got stuck Wednesday morning (Feb 24), when it broke from its moorings off Antarctica's Mawson station amid blizzard conditions. That set off intensive efforts to rescue the 68 aboard and get the vessel floating again.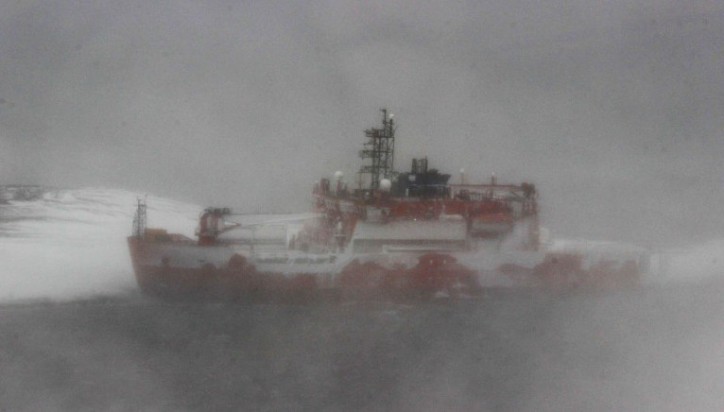 Image: STR/AFP GettyImages
On Thursday, the Australian government indicated both would occur "when the conditions ease." Apparently, that's what happened earlier today.
Blizzard conditions yesterday evening at Mawson station. Updates: https://t.co/2Ly7Pzqw7Q pic.twitter.com/XmlqY8kfD2

— Antarctic Division (@AusAntarctic) February 25, 2016
@AusAntarctic We shall keep the Aurora's Crew in our prayers and pray for their salvation to be set free from the cold Antarctic Blizzard.

— Pfc. Timmy Jones (@PfcTimmy) February 25, 2016
Despite it being the tail end of summer in Antarctica, sub-freezing temperatures persisted throughout the day, according to Australia's Bureau of Meteorology. Still, that's standard for the icy, polar continent: The fact that winds had died down considerably was much more significant for the rescue operations.
In light of that positive development, the 37 expeditioners on the Aurora Australis were the first to go.
Australian Antarctic Division, a government agency that conducts Antarctic research, reported a barge took them off the ship -- no more than 15 at a time, necessitating a few trips -- and brought them to land on Mawson station wharf.
From there, the expeditioners took a Hagglunds all-terrain snow vehicle to Mawson station, where the Aurora Australis had originally stopped simply to resupply.
Ship suffered breach, but still refloated
That was decidedly good news, but didn't change the fact 31 Aurora Australis crew members, and of course their ship, remained stuck in rocks off Horseshoe Harbor. Not for long, though.
P&O Maritime, which operates the ship, worked to use the ship's ballast system and work boats to get it floating again.
In an early Friday afternoon local time tweet, Australia's government indicated the operation was successful.
The Aurora Australis has been successfully re-floated. https://t.co/cW3ZgGeFBw pic.twitter.com/4bdS7ZnZyF

— Antarctic Division (@AusAntarctic) February 26, 2016
That the ship is back on water, with crew aboard, suggests the hull breach created when it ran aground wasn't as bad as it could have been.
The Australian Antarctic Division previously said the breach "poses no risk to the stability of the vessel or of fuel leaking into the environment." But that didn't mean the ship itself was OK to set sail again: That determination only came after a full assessment of the vessel.
Related news: Icebreaker Aurora Australis runs aground at Mawson Station in Antarctica
Almost 70 crew remain stranded on Aurora Australis icebreaker as AAD confirms ship suffered hull breach (Video)
Source: CNN