Hyundai Merchant Marine (HMM) is seeking to reduce its capital to one-seventh of its current value, in its latest bid to improve finances amid mounting losses.
According to the plan, which was decided by the company's board of directors on Thursday, the company will swap one new share with every seven existing ones. But the shares will keep their face value of 5,000 won ($4.10).
The total number of HMM shares in the market will shrink to 32.7 million ordinary shares and 1.8 million preferred stocks from the current 229 million ordinary and 1.86 million preferred shares. The company's capital will be reduced to 170.3 billion won from the current 1.2 trillion won.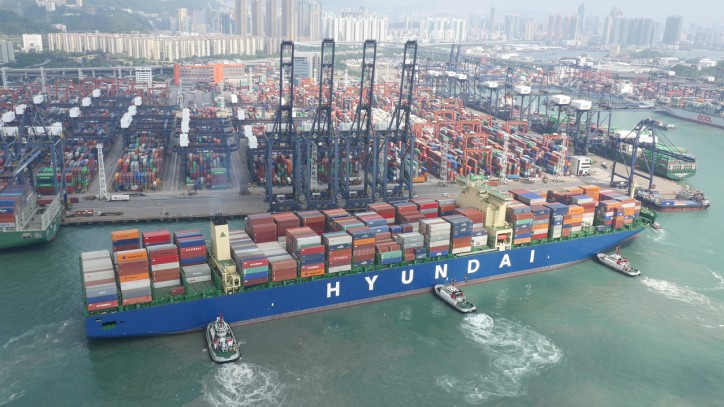 Image: HMM
The plan is subject for final approval by shareholders at a general shareholders' meeting on March 18.
"If a company's equity capital ratio stays below 50 percent for two years in a row, it could be delisted from the stock market. The plan is, in part, to avoid that tragedy," an HMM spokesman said.
It will help improve the company's ailing fiscal health overall, the official added.
HMM, the flagship unit of Hyundai Group, the country's 29th-largest conglomerate, has been struggling with mounting losses, as excessive capacity and weak global demand led to a plunge in shipping rates.
HMM on Feb. 5 announced that the company's equity capital ratio fell to 36.6 percent in 2015, about half the 65.2 percent in 2014, after posting more than 490 billion won in operating losses in 2014 and 2015 combined. Shares in HMM plunged 21 percent to close 2,495 won Friday, on news of the drastic measure.
Trading in the shares will be halted from April 20 to May 4, and will resume on May 6, the company said in a statement to the stock exchange in Seoul. At Thursday's board meeting, Hyundai Group's chairwoman Hyun Jeong-eun decided to step down as board chairperson and registered director, HMM said.
"The company concluded that Hyun's resignation will allow the board members to be more aggressive in pushing ahead the restructuring program," the HMM spokesman said. "Hyun will support the company as a large shareholder, but not from the top office," he added.
HMM in February has submitted a slew of downsizing and restructuring plans to its main creditor, the Korea Development Bank. The company has been in talks with several companies to sell its bulk business and other assets, which will allow Hyundai to raise about 500 billion won. It has also been negotiating with shipping companies to get a discount in their ship usage fees.
"Hyun's stepping down also seems to be designed to persuade the ship owners to allow a price cut now that the chairwoman is taking responsibility," an onlooker said.
Source: Korea Herald