Sembcorp Marine Ltd announced on Wednesday (Mar 9) that it has acquired an additional 44% equity stake in Gravifloat AS for US$38 million. This will bring the Company's stake in Gravifloat to 56%.
Under the agreement, the Company will eventually increase its stake by a further 44% to 100% through an equity purchase at the same price.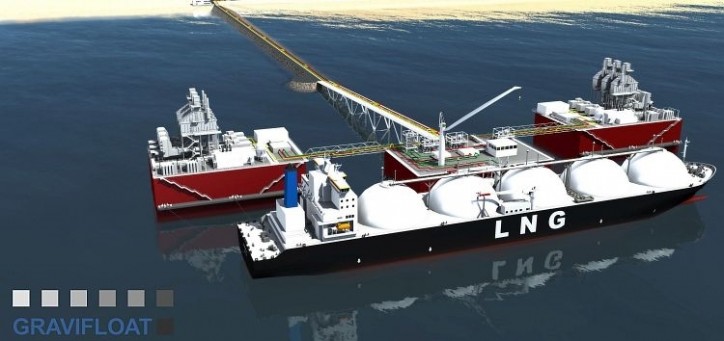 Gravifloat designs and holds patents for a suite of re-deployable, modularised solutions based on its unique near-shore floating yet gravity-based LNG terminal solutions. From initial design, through construction and delivery, to installation and commissioning, Gravifloat offers customers across the LNG value chain a compelling alternative to existing onshore and floating LNG facilities.
The Gravifloat designed facilities are steel-based modularised structures that offer the advantages of a floating solution, with the floatable modules to be fully constructed and tested at a shipyard leveraging their expertise, fabrication methodology and infrastructure to efficiently construct the facility.
Sembcorp Marine's President & CEO Wong Weng Sun said: "Our increased stake in Gravifloat underlines our confidence in Gravifloat designs to provide globally competitive solutions for our customers. It also reflects our strategy to broaden and deepen the Group's range of proprietary designs and solutions to develop new state-of-the-art facilities for the fast evolving LNG and LPG industries."
Gravifloat terminals offer a more cost-competitive solution compared with FSRUs (floating, storage and regasification units), FLNG and land terminals and can be designed for both liquefaction and receiving terminal services.
The Company had announced its initial 12% acquisition in Gravifloat on 2 June 2014. With its holding increased to 56%, Gravifloat will become a subsidiary of the Company following the completion of the Acquisition.
The Purchase Consideration and Value of the Sale Shares
The consideration for the Acquisition was arrived at on a willing-buyer willing-seller basis after taking into account (i) the net tangible asset value of US$475,000 of the Sale Shares as at 31 December 2015, (ii) the intellectual property rights and the prospects of commercialising the design, and (iii) the Group's gain of control of Gravifloat with the Acquisition.
The consideration will be fully paid in cash from internal funds.
Rationale for the Acquisition
The Acquisition enables the Company to gain significant control of Gravifloat and expand the Group's products and services by moving into offshore gas processing units.
The Acquisition is not expected to have any material impact on the consolidated net tangible assets per share and earnings per share of the Company for the year ending 31 December 2016.
Source: Sembcorp Marine