Chinese shipping majors Cosco Group, China Merchants Group and ICBC Financial Leasing Co. have placed orders for 30 giant Valemax vessels worth a combined $2.5 billion, people involved in the matter said.
The move will tighten Beijing's grip on iron-ore shipments from Brazil over the next decade and increase pressure on Western shipowners struggling to find cargo in one of the industry's longest ever downturns.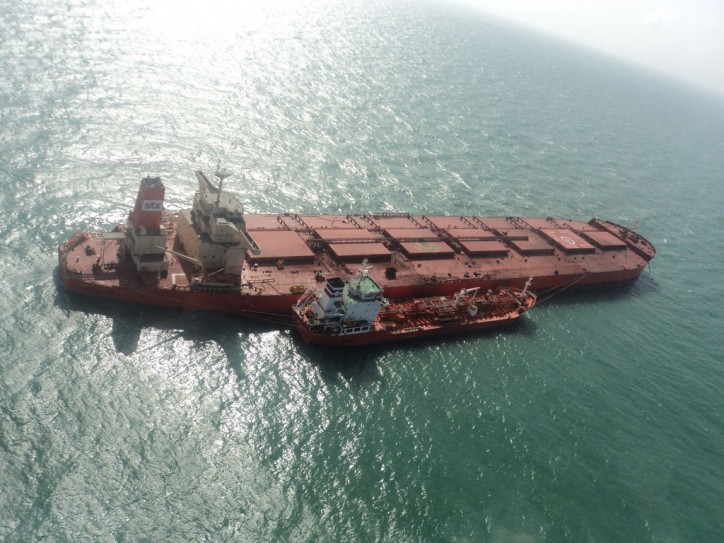 Vale Beijing and Sea Emperor at anchor, Sao Luis - Image: Antipodean Mariner
The ship orders will also boost Chinese shipyards suffering from a slump in demand, and in the long run will help control costs for Chinese steelmakers by stabilizing freight rates.
The people said the three state-controlled shipping companies ordered 10 ships each from four local yards—Shanghai Waigaoqiao Shipbuilding, Beihai Shipbuilding, CIC Jiangsu and Yangzijiang Shipbuilding—with deliveries scheduled to begin in 2018.
"Despite the collapse in the dry-bulk market, the Chinese are ordering new vessels to effectively control iron-ore freight rates over the next 10 years or so," said Basil Karatzas of Karatzas Marine Advisors & Co., a New York-based maritime adviser. "This will put more pressure on dozens of independent shipowners struggling to cope with record low freight rates."
Valemaxes were introduced to the market in 2010 by Brazilian mining giant Vale SA. The plan was to build around 60 vessels but only 18 were delivered. Vale suffered a blow when Beijing banned the ships from docking at Chinese ports, saying they were unsafe. Last July the ban was lifted, but by then Vale had sold or leased the vessels to Chinese owners including Cosco.
Valemaxes can move up to 360,000 tons of cargo. They are twice as big as Capesize vessels, the biggest mass-production dry-bulk ships, which move around 180,000 tons.
China is the biggest importer of commodities, and its slowing economy is the principal reason for shipping lines' woes. Imports of cement and iron ore fell 46% and 38%, respectively, last year in terms of value, according to Chinese customs data. Dry-bulk owners moving such products into the world's second largest economy currently operate their vessels at steep losses, with operating costs exceeding freight rates by nearly four times.
Dozens of dry-bulk operators have gone bankrupt while others are delaying loan payments to banks, idling their ships en masse, or selling them at token values.
Brokers in Singapore and London said the new Valemax purchases will give Chinese carriers control of about 30% of total iron-ore imports into the country in terms of volume. Mr. Karatzas said such dominance will keep freight rates under control for years.
"At the peak of the market in 2007 and 2008 we used to pay daily freight rates in excess of $200,000 for a Capesize vessel," an executive at one of the Chinese Valemax buyers said. "We are taking steps for this not to happen again when the market recovers."
Daily rates for Capesize ships currently hover below $3,000.
Source: WSJ