The Mexican navy's training ship, Cuauhtemoc, set sail from the Pacific port of Acapulco on a cruise that will take it to 18 ports in 14 countries, the Navy Secretariat said.
The ship "will visit 14 countries with a crew of 252 members, including captains, officers, cadets, petty officers and sailors, as well as national and foreign invited officers, of whom 30 are women," the secretariat said in a statement.
The ship sailed on its latest training cruise, "Ibero Atlantico 2016," on Saturday, the secretariat said.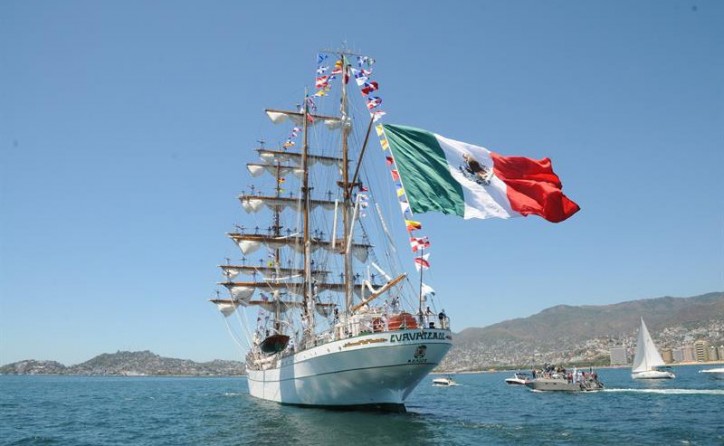 The Cuauhtemoc will be at sea until Oct. 3, expanding ties of friendship between Mexico and other countries, and carrying a message of peace to strengthen academic and cultural links with other navies.
The training ship will visit ports in Panama, Colombia, Cuba, the United States, Canada, Britain, Germany, the Netherlands, Belgium, France, Portugal, Spain and the Dominican Republic.
The Cuauhtemoc and its crew are scheduled to participate in a number of maritime events in different countries and will perform various nautical training tasks, the secretariat said.
Navy Secretary Francisco Soberon Sanz, Social Development Secretary Jose Antonio Meade and Defense Secretary Salvador Cienfuegos participated in the ceremony marking the start of the ship's voyage.
The Cuauhtemoc has sailed 684,934 nautical miles, the equivalent of circling the Earth 33 times, spent more than 5,363 days on the high seas and visited 209 ports in 60 countries since going into service more than 30 years ago.
The ship was constructed by the Astilleros de Celaya S.A. shipyard in the northern Spanish city of Bilbao between July 24, 1981, and July 29, 1982.
The Cuauhtemoc has won numerous commendations from the Mexican navy and the navies of other countries during its more than 30 years of service.
Source: LAHT