Faulty equipment, inaccurate cargo weights and miscommunication contributed to vessel's list and grounding
A CHAIN of reporting and operational errors led to the list and grounding of Höegh Osaka on January 3, 2015, an investigation by the Marine Accident Investigation Branch (MAIB) has shown.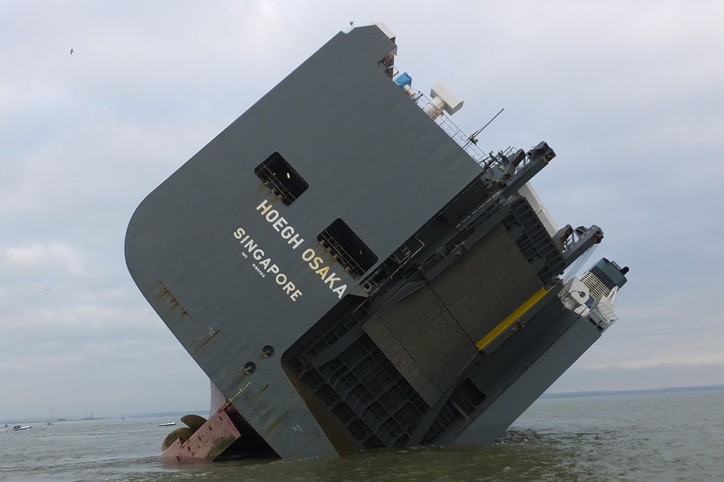 Image: MAIB
The detailed report shows that estimation of ballast levels, last minute changes to loading plans, inaccurately declared cargo weights and a lack of communication were all evident in the run up to the vessel's departure from port.
The pure car and truck carrier listed by seven degrees when the chief officer raised the stern ramp, the report found. The list was corrected, but was well above the usual one or two degree list experienced after raising the ramp, it said.
Höegh Osaka developed a significant list shortly after departing Southampton, UK, headed for Bremerhaven and Hamburg. The vessel ended up grounded on a sandbank with a list of over 50 degrees. The crew was successfully evacuated, with injuries including a broken arm and broken leg suffered by one crewmember after an 18 m fall.
The 76-page report was produced with the aim of preventing future accidents, and uncovered significant findings.
MAIB has published a safety flyer detailing the events and the safety lessons learned from the incident. The full report also details the operational changes made in the wake of the accident by vessel owner and operator Höegh Autoliners, shipmanager Wallem Shipmanagement Ltd, agent Southampton Cargo Handlers and departure port Southampton.
MAIB's findings are inadmissible as evidence in any judicial proceedings which seek to apportion blame or liability.
Below you can see a video supplied by MAIB as part of the investigation report into the grounding of the Hoegh Osaka in January 2015:
Source: Lloyd's List