Sri Lanka's national carrier, Ceylon Shipping Corporation (CSC), aims to diversify business now that it has taken delivery of the first of two bulk carriers ordered from a shipyard in China, its chairman said.
The vessel, MV Ceylon Breeze, called at Colombo Tuesday on its way to deliver a shipment of 55,000 tonnes of coal to the Norochcholai coal-fired power plant on the north-west coast.
Ceylon Shipping Corporation chairman Shashi Dhanatunge said the line is taking delivery of the ships at a time when the shipping industry is going through a "turbulent period".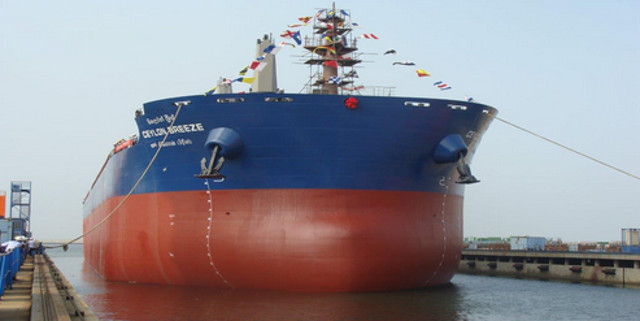 Image: CSC
An oversupply of vessels and a slowdown in trade has sharply reduced freight rates and ship values, causing losses for many carriers.
"I have the responsibility of making the venture commercially viable," Dhanatunge said during a ceremony on board Ceylon Breeze on its first call at Colombo port.

"At the moment we are looking at other revenue streams to minimise the challenges we face."
Dhanatunge informed that the shipment of coal was from Russia and that the ship will next sail to pick up another shipment of coal from South Africa.
During the south west monsoon period when coal cannot be delivered to the 900 MW Lakvijaya Thermal Power Station in Norochcholai, the CSC ships will be employed in other trades, he said.
"We will seek to transport other bulk commodities like wheat," he said. "The vessels will also be chartered out", he added.
The Ceylon Breeze and its sister ship under construction each has a cargo carrying capacity of 63,000 tonnes. Dhanatunge said the second ship will be delivered in May or June.
Each ship was purpose-built to provide training for Sri Lankan seafarers and has accommodation for 12 cadets on board.
CSC, which has been making losses for several years, owned a fleet of eight conventional vessels, eight container vessels and one tanker during the 1970s and 1980s.
Source: EconomyNext