The Fairmont-operated bulker Star of Abu Dhabi has been arrested as collateral against a $20 million claim over alleged damages to a dock owned by Louisiana Sugar Refining in Gramercy, Louisiana, USA.
Louisiana Sugar said in its filing that the 80,000 dwt Star of Abu Dhabi had drifted into the sugar refinery's dock after an anchor failure upstream of the facility on March 25, and alleged that the vessel's condition and the actions of her crew were responsible. LouisianaSugar said that the dock is so damaged that it will be unusable until repairs can be completed.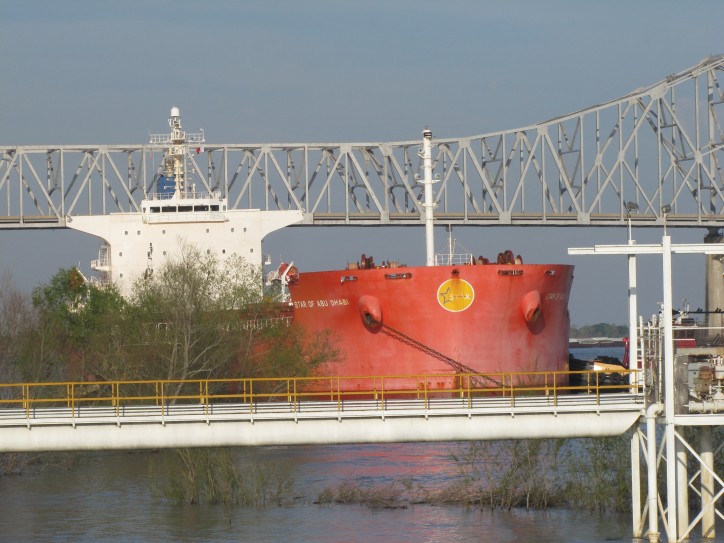 Bulker Star of Abu Dhabi, Grandview Lower Anchorage, Mississippi River, Louisiana, USA March 25, 2016 - Image: Jody Ordeneaux
In a filing dated March 29, the U.S. Marshalls Service said that a notice of arrest had been served on the Star at dock at a facility operated by Honeywell Specialty Materials / William Olefins on the Mississippi River, near Geismar, Louisiana. The order for arrest gives the vessel's owner, Abu Dhabi Shipping International, up to 14 days to give cause for the vessel not to be condemned and sold to pay the amount of the alleged damages.
Abu Dhabi Shipping, Fairmont Shipping and the Star's insurers, Japan Ship Owner's P&I, were also named in the suit. A Fairmont Shipping press representative was not immediately available for comment.
Separately, rig operator Spartan Offshore Drilling has filed suit against Maritime Carrier Shipping of Germany and Moran Towing of Connecticut for $8 million in damages resulting from an incident in 2014, when Maritime Carrier's cargo vessel Grey Fox struck the moored jack-up rig Spartan 303 in Sabine Pass, Louisiana. The Grey Fox was maneuvering with the assistance of Moran tugboats at the time of impact.
Source: MaritimeExecutive