The Saudi shipping line Bahri Shipping has announced that as of 12 April, it will be sailing directly from Rotterdam. After departing from the port of Rotterdam, the Bahri Jeddah will travel on via a busy itinerary to Bahrain, where according to planning it will arrive on 13 May. Bahri Shipping will be maintaining a monthly scheduled service from the city on the Maas.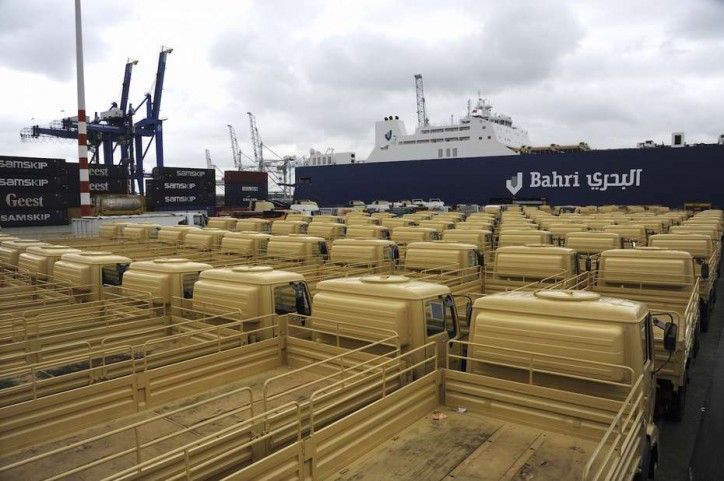 Image: Port of Rotterdam
Tuesday next week will be the second time a Bahri Shipping vessel calls on Rotterdam. Last year, the Bahri Jazan docked at the SCA Logistics terminal during its first call on the Rotterdam port. This time round, the Bahri Jeddah will be departing from the same terminal at the port, carrying some 100 trucks with rolling stock and project cargo. Everything can be transferred to the ship's deck using its own cranes. For breakbulk, the two cranes have a combined maximum capacity of 240 tonnes. Rolling stock with a weight up to 250 tonnes can be driven on board via the stern ramp. The stern ramp is 8.2 metres wide, and has a 6.8-metre headroom in its door opening.
Scheduled services
The ships sailing via Rotterdam are part of the scheduled service North West Europe Service. The vessel operated by Bahri Shipping – represented by Slavenburg & Huyser – will follow an itinerary that takes it past ports in the UK, Germany and Belgium. After this, the scheduled service includes calls on ports in Italy and the Middle East. The scheduled service will be maintained by so-called ConRo ships, which are able to transport a combination of roll-on/roll-off cargo, breakbulk and project cargo.
Source: Port of Rotterdam