Malaysia International Shipping Corporation MISC Bhd is looking to acquire distressed floating, production, storage and off-loading (FPSO) assets as the shipping company is now on stronger financial footing.
According to MISC president and chief executive officer Yee Yang Chien, the prolonged low oil prices environment could result in FPSO owners putting some of their assets up for sale and that these may be assets which have term-charter contracts in place.
"We have been looking at the market since the last year, and our prediction is somewhat coming true as some distressed assets have cropped up in the market.

"But we are not in any rush as oil prices are still low," he told the press following the company's annual general meeting and extraordinary general meeting (EGM) yesterday.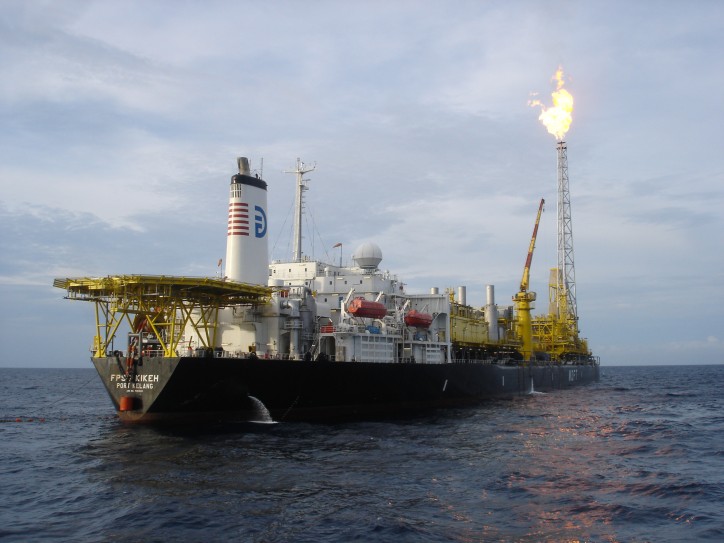 FPSO Kikeh is a Malaysia's and Asia's first Deepwater FPSO in 1,300 meters of water Image: MISC Bhd
Yee said MISC's business development focus was now on North and South America, Europe and Africa.
"We are also looking at acquiring petroleum tankers if there are opportunities.

"We need to grow in tandem with our financial capability, which is in great shape now with very little debt. Even after the acquisition of the remaining 50% stake MISC did not own in Gumusut-Kakap Semi-Floating Production System (L) Ltd (GKL) at RM1.85bil, our gearing will still be low at 0.3 times," he said.
In terms of its financial strength, MISC's net cash generated from operating activities increased to RM4.1bil as of December 2015 from RM2.8bil a year ago. Its cash and cash equivalents stood at RM5.6bil at the end of last year against RM4.8bil at the end of 2014.
For its financial year ended Dec 31, 2015, MISC Bhd's net profit grew to RM2.47bil from RM2.2bil in the previous corresponding period, while revenue rose to RM10.91bil from RM9.3bil a year earlier.
Yee added that there are fewer greenfield upstream FPSO contracts to bid for now and hence it makes more sense for them to buy into ones in operation.
"This will eliminate construction risk and we could enjoy the profits as soon as we purchase the assets," he said.
For GKL, MISC had almost unanimous shareholders' approval to go ahead with GKL purchase at its EGM on Tuesday.
MISC announced in February that it was buying back the 50% equity interest in GKL, the owner and lessor of Asia-Pacific's first deepwater semi-submersible floating production system (semi-FPS) in cash.
The energy-shipping firm had disposed of the stake at cost to sister company Petronas Carigali Sdn Bhd's unit E&P Venture Solutions Co Sdn Bhd in December 2012 for US$305.7mil (RM1.3bil).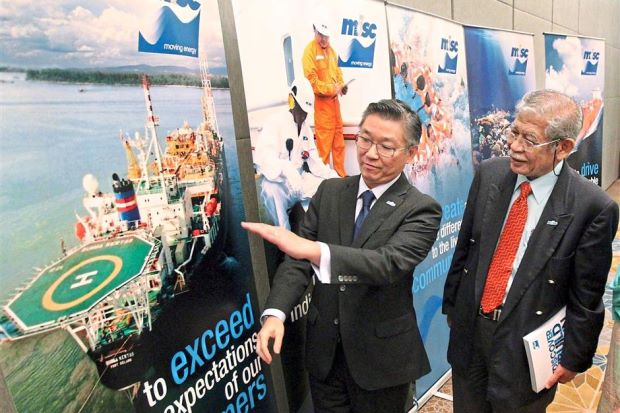 Stronger footing: Yee (left) and MISC chairman Datuk Ab. Halim Mohyiddin at the company's AGM. According to Yee, the prolonged low oil prices environment could result in FPSO owners putting some of their assets up for sale and that these may be assets which have term-charter contracts in place.
The stake sale at the time was made to strengthen the company's financial position, which has since improved significantly.
Yee said the Gumusut-Kakap field has the capacity to produce up to 150,000 barrels per day and it is now in production with current production of 120,000 barrels per day,
"Looking at those production numbers, this purchase is also of national interest due to the capacity of the field to the country's oil production capacity.

"For MISC, owning 100% of GKL means that we have total control of secured and steady cash flow business and profit for the next 23 years," he said.
Yee said out of its four business units, the offshore and heavy engineering (from its subsidiary Malaysia Marine and Heavy Engineering Holdings Bhd) are expected to be slow this year due to slower upstream activities.
"But, for liquefied natural gas (LNG) shipping, most of our ships are on long-term charter and it will continue to sustainably contribute to our earnings this year as of last year.

"Although petroleum shipping is a bit expose to the volatility of the current market, I expect the demand and charter rates continue to be robust based on the production of oil that has not slowed down.

"In general, we hope to do better financially this year, of course," he said.
MISC lost 5 sen to RM8.85 at the end of trading on Tuesday (Apr 19).
Source: The Star