German container shipping group Hapag-Lloyd is in talks to merge with rival United Arab Shipping Company (UASC), German monthly Manager Magazin reported on Thursday (Apr 21).
According to the report, which pushed up shares in Hapag-Lloyd by more than 10 percent to a two-month high, a combination of the two groups would create the world's fourth-largest container shipping group.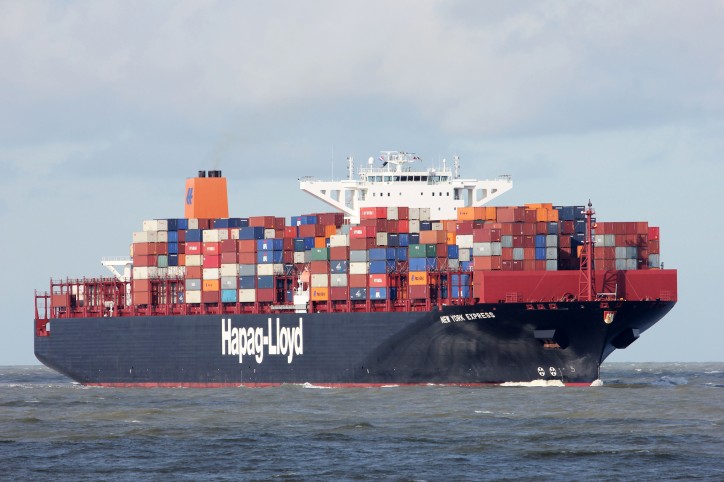 Container ship New York Express - Image: Hannes van Rijn
It said the new venture was likely to be headquartered in Hamburg and that UASC stood to expect to hold a share of around one third of the merged firm.
The shipping industry is in a long-term downturn where greater entities can achieve better economies of scale, and sources said merger talks were not implausible in this environment.
Hapag-Lloyd already merged with Chilean peer Compania Sud Americana de Vapores (CSAV) in December 2014, allowing it to swing to profit last year.
Nonetheless, Klaus Michael Kuehne, Hapag-Lloyd's third-biggest shareholder with a 20 percent holding, recently said he believed the company was too small to thrive alone.
CSAV owns 31 percent of Hapag-Lloyd, and HGV, the city of Hamburg's investment holding company, has 21 percent. UASC is a state-owned firm controlled by Gulf Arab states, with Qatar controlling the majority stake.
Hapag-Lloyd just released a statement on the merger talks with UASC, which says:
"Forms of cooperation being discussed / No binding results yet

Hapag-Lloyd AG (HL) and United Arab Shipping Company SAG (UASC) are currently discussing forms of cooperation including a potential combination of their mutual container shipping operations. In case of a business combination, the parties are basing their discussions on a relative valuation of the two businesses at 72% (HL) and 28% (UASC), subject to a mutually satisfactory completion of the negotiations and the mutual due diligence exercise. To date, the discussions conducted between the two carriers have not resulted in any binding agreement and no assurance can be given that these discussions will lead to a definitive agreement."
Source: Maritime Executive