Hyundai Heavy Industries (HHI) issued a public disclosure of its 1Q 2016 consolidated earnings today.
According to a regulatory filing, HHI racked up 10.2728 trillion Korean won (hereafter the "won") in sales, a 7.8 % decline from the previous quarter while operating income swung to a profit of 325.2 billion won, putting an end to a nine-quarter losing streak.
An HHI officer said, "For 1Q 2016, we have returned to the black mainly due to the following reasons; the phase-out of low-price shipbuilding contracts, stabilization of manufacturing processes for offshore and industrial plant business, reduced material costs, the weakening won and noticeable performance improvement of non-shipbuilding businesses including Engine & Machinery, Electro Electric Systems and Construction Equipment."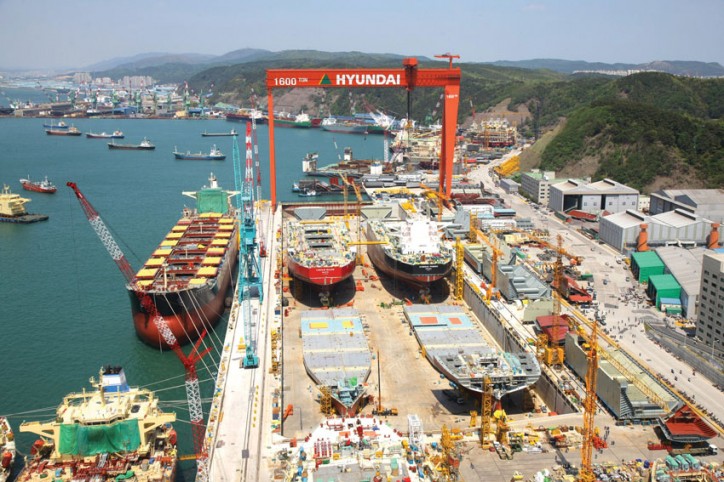 The officer added, "We see the 1Q 2016 consolidated earnings have not deviated much from the annual performance goal we set up early this year. Strong performances of Hyundai Oilbank, our refining subsidiary,also played a role in turning a profit."
HHI also attributes the turnaround to a series of drastic and comprehensive restructuring measures launched in 2014 by the incumbent top management in an effort to tide over the protracted crisis.
Firstly, HHI launched HHI Group Ship/Offshore Marketing Division by combining sales departments of its shipbuilding and offshore division for increased synergies. HHI also instituted profit-focused restructuring by liquidating unprofitable businesses and overseas incorporated firms, such as Hyundai Cummins Engine Company and JaKe. In an effort to put more emphasis on its core businesses, HHI spun off the industrial machinery unit of its Engine & Machinery Division, and disaffiliated its trading arm, Hyundai Corp., from the HHI group.
An HHI officer said, "From now on, we will assess each division's performance by its level of competitiveness in the respective business fields. Although we have turned a profit in the first quarter of this year, we will concentrate more on cutting costs in case of a falling order backlog. Moreover, under the leadership of each division heads, we will continue to exert our utmost efforts to recover the competitive edge by realigning businesses and organizational structure."
Source: HHI