This week, Sohar greeted the one-hundredth Very Large Ore Carrier, or VLOC, to berth at the Port since Vale in Oman's operations started in 2011. Weighing in at 388,000dwt and measuring 366 metres in length, more than the height of the Eiffel Tower in Paris, the MV Berge Everest is part of a large fleet of specialised ships that transport iron ore around the globe for the Brazilian mining giant.
Sohar Port is part of a small network of deep-water facilities worldwide, equipped to handle this type of vessel. Other ports in the network outside Vale's native Brazil, include Sohar JV-partner Port of Rotterdam, as well as selected ports in Japan, Korea and China, and specially constructed floating jetties in the Philippines.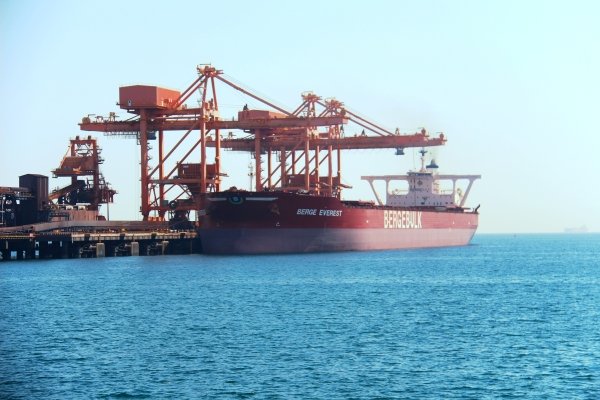 Officials from Sohar Port and Freezone, as well as executives from Vale in Oman, were waiting at the Sohar bulk terminal on Monday to greet the Berge Everest. The brief ceremony celebrated the ship's safe arrival in Sohar and the industrial success story of Vale in Oman. Officials highlighted the positive environmental impact of VLOCs as a critical factor: a fully laden VLOC emits around 35 per cent less CO2 than if smaller, traditional ore carriers were used.
Chief Executive of Vale in Oman, Sergio Espechit, said: "It is with great pleasure that Vale in Oman welcomes Berge Everest as the one-hundredth VLOC to our facilities in Sohar. These vessels play a critical role in our global logistics strategy but also impact us locally. Thanks to a combination of the latest technology, our highly-skilled workforce and continuous investment in our facilities, we are proud to say Vale in Oman operates here at the highest standards of safety, service and efficiency."
International experts confirmed the world-class standards at the terminal in Sohar, when Vale in Oman won the prestigious International Bulk Journal's Award for the Best Dry Bulk Terminal at a ceremony in Antwerp, Belgium, recently. In large part thanks to its prime location just outside the Strait of Hormuz, as well as a draft of up to 25 metres, Sohar has become one of the world's fastest growing Port and Freezone developments with investments today totalling $25 billion.
Sohar Chief Executive Andre Toet summed up when he said: "We are delighted to have Vale as our partner here at Sohar and are proud to be part of Vale in Oman's success story; we look forward to more growth and to welcoming the next one hundred VLOC ships in the years ahead."
Source: Times of Oman